When I was pregnant with my third child, my intuition told me that I was carrying a boy. At 21 weeks along, my suspicions were confirmed: It's was a boy! My baby boy, Miles was born later that year on August 31. Yea!
Not yea, guys! Not! Yea!
All of you been there/done that moms who told me from week 22 until delivery, "Oh boys are SO much easier than girls!" - we're fighting now. That's your warning - you and me, we're fighting.

Boys are SO bad! Had you valued this friendship you would've been honest and said, "Oh you're having a boy? Aw, sorry in advance for all of the trouble he's going to cause. Buy a bullhorn."
And before you can blame it on the Terrible Twos, no. Hold that thought because I have two daughters, and they were (in Mar's case, ARE) terrible at 4. Two was a breeze with the girls. I think with boys it should be something to describe an entire childhood. Something like... Terrible From 1 to 21. And destructive. And stubborn as hell.
Let's talk about all of the things he's done to turn my hair gray this week...
Miles tried to shave the puppy with electric clippers. I walked in to find him sitting on her, clippers buzzing away right above her shoulders.
Miles mashed grapes into the carpet one day. Apples one day. Crackers one day. Cookies one day. You catch me? Kid likes to mash.
Miles doesn't hit when he's mad. He prefers to throw things at you and the little shit has a good aim. This week, he beaned Mia upside the head with a plastic Caillou doll and if memory serves, Boo got a Furby across the cheek.
Miles pours constantly and he's horrible at it. He really likes pour directly onto the floor. I really hate that - though not as much as I hate when he pours something directly into MY bed.
Miles colors on freaking everything. Using everything. Lipstick on the kitchen floor. Sharpie on the table. Tomato soup on the stack of mail. If it'll smear or make a mark, hide yo kids, hide yo wife!
As soon as I turn my back - BAM! - he's into something else and when I ask (like a dummy) "Who did this?!", and he says "Puppy!" See that? He even attempts to place the blame on an innocent bystander who can't even defend herself!
Yes, because a wiener dog is fully capable of shoving a Matchbox car down the sink drain.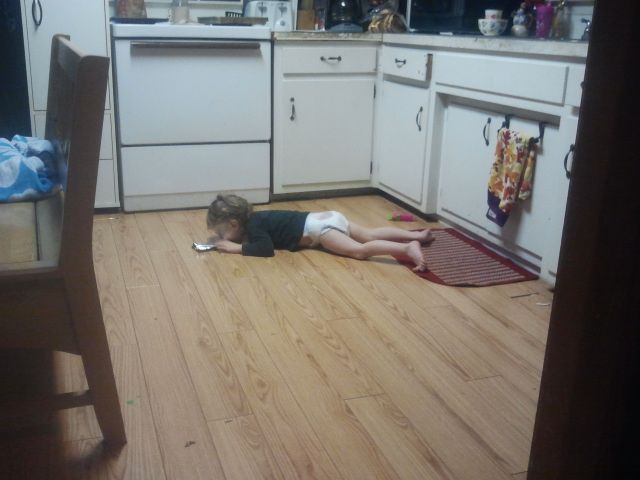 He made a Capri Sun geyser. Then proceeded to Hoover it off of the floor.
Needless to say, each time I catch him red-handed I threaten to cut his hair and he absolutely freaks out. That haircut is definitely happening this weekend. I'm hoping for pictures, but I can't make any promises on actually getting any. It's really hard to hold a comb, scissors, and a squirming 2 year old all while taking photos.
*****
And...the winner of the
Sleek Glitz earring giveaway
is... Sk8mom75! (I can't figure out how to screen shot on this laptop. Well, I can screen shot, but I can't figure out how to get to the paint program. I hate technology...)
Anywho...Congratulations to you comment #1! Please email me at jennifer.palis@gmail.com to claim your prize!
Tomorrow will be my last
Sleek Glitz
giveaway for the week and it's an entire set! Happy Friday to ya!
(And, I tried to adjust the settings to leave comments. I heard a lot of you were having trouble getting your post to show up. Let me know if it's still being a pain and I'll cuss at it!)