I come from a long line of women who cut their own hair. Grandma Joy was a hairdresser, my mom was a hairdresser before having kids, and now me. I'm not a hairdresser, but I play one when I'm too impatient to wait for appointments.
At this point the girls are angels when it's time for a new 'do. They stand like little statues: Mia on the floor while I perch on the toilet, and Marlee on the toilet while I stand on the floor. My lovely ladies totally get my instructions to "Hold still", "Lift your chin", and "Look down". Then, when it's all over, they primp and grin in front of the mirror like the little beauties they are.
Guess who isn't obedient when it's time for a haircut?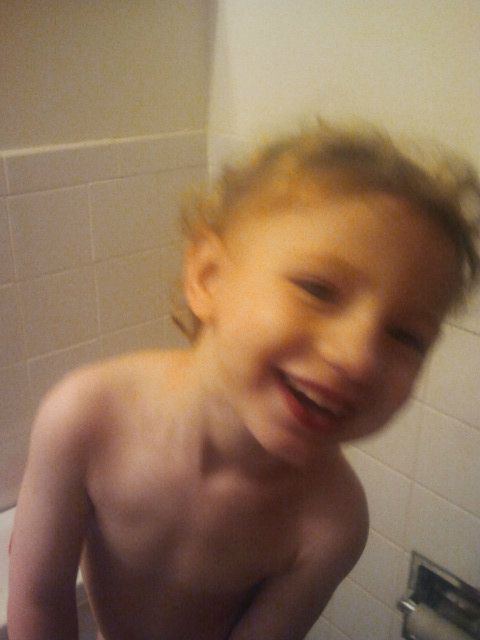 This is him 'holding still'... Nailed it, as you can tell by the blurs!
Now if you've never cut a toddler's hair, I'd like to give you some advice before you start.
You'll need the following supplies:
Scissors
Fine-tooth comb
Cup of water or close proximity to the sink
1 toddler stripped to their diaper (trust me, you will NOT succeed in keeping hair clippings out of their shirt)
Straight jacket / tranquilizers
Tequila
I'm going to clarify real quick - the straight jacket and/or tranqs are totally optional but could be really useful. I've never used them, but I always find myself pining for them halfway through the haircut. Your choice. Some people aren't as comfortable with 'child abuse' as others.
Oh, and don't drink the tequila until after the haircut. Nobody wants to haul their kid into Snip 'N Clip and say "Well I was on a good tequila-drunk and I got a little carried away with the scissors..." It should be your victory drink, post-trim.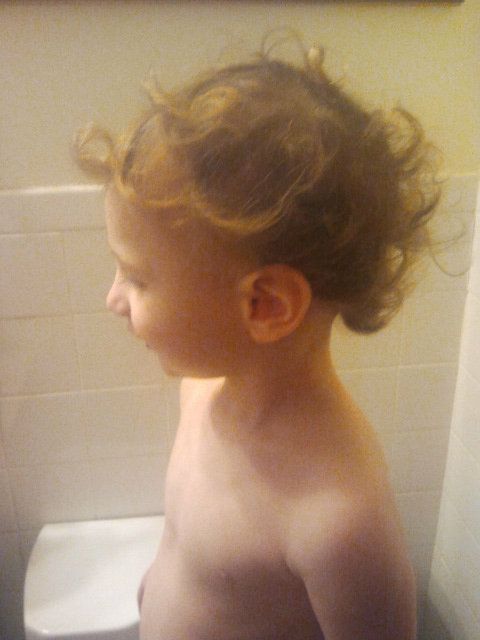 We refer to this wild style as "Friedrich hair"
When it's time to get down to business, I have Miles stand on the toilet. He's tall for his age and I'm a little short so this makes his dome about eye-level with me. Anyway, I wet his hair and comb it into the style I'd like to cut. He always gets a close-cropped side part. Chris begged me to give him a mullet or a mohawk, but the boy has big fat curls. I have no idea how to do a mohawk with curls and I didn't want to butcher the front for the sake of a Missouri Mudflap.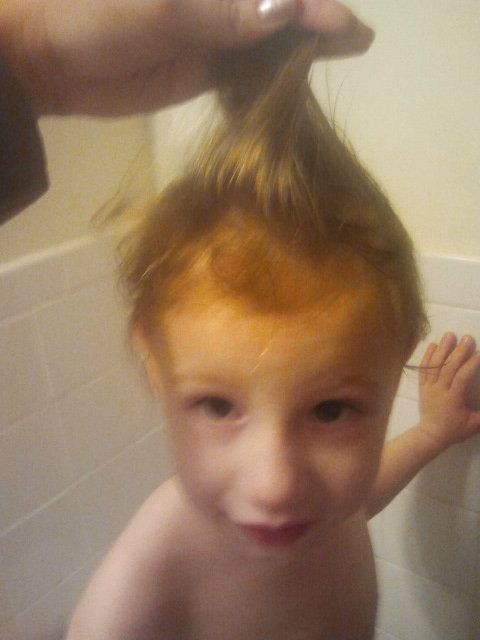 Then we start with a little snip-snip on the top, sides, back of the neck, and finish up with the bulk of hair in the back. It sounds way simpler than it actually is because you have to stop every time the turkey decides to turn around and smile at you/reaches for the puppy/gets the scissors while you have the comb/anything else you can think of or haven't thought of.
The finished product though? Handsome!
"I cute! Mommy cut hair! I gooooood boy!"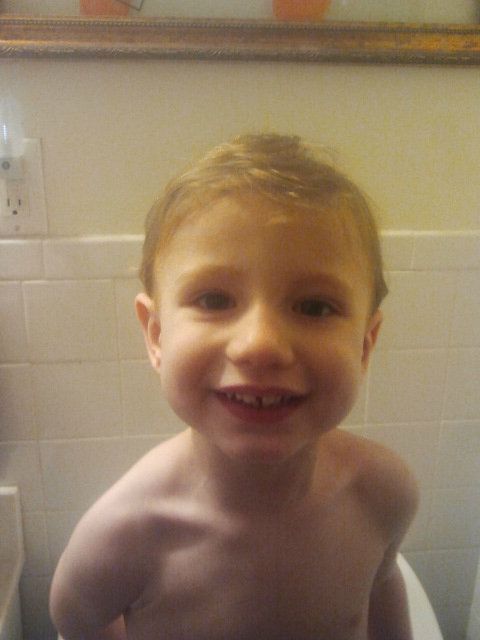 Not quite the exquisite buzz cut I saw on
a lady at Arby's but still flattering.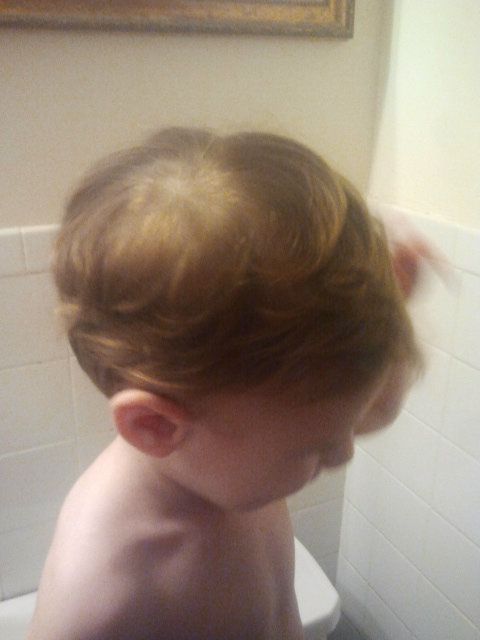 Then he proceeded to help the puppy shred 6 wet wipes while I cleaned up from his haircut. What a sweetheart...
*****
Hey, big ole thank you to everyone who has entered to win the Sleek Glitz jewelry. If you haven't won yet, you have one last shot and this time you win an entire set!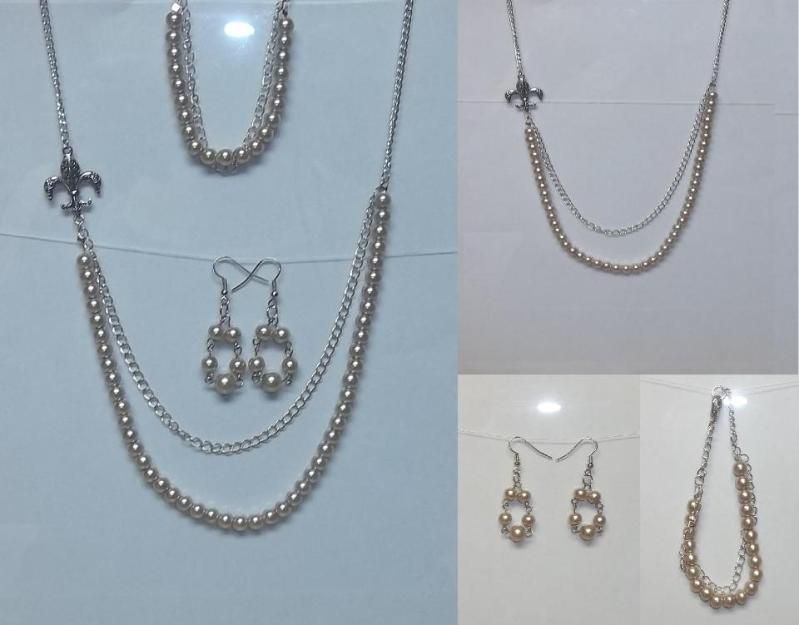 This pearl set (necklace, earrings, bracelet) features strands of warm pearls and silver links with a Fleur-de-lis accent. Win it, wear it, and think of yourself as a woman as lovely as pre-guillotine Marie Antoinette.
"Let them eat cake...bitches..." - M.A. (that's a direct quote, guys)
Same rules as always:
LIKE Sleek Glitz on Facebook.
Leave a comment here on the ole blog once you've done both.
*Get an extra entry if you follow HHDD on Twitter (@Jen_Palis). Just make sure to leave that in a separate comment on the ole blog.
Winner will be announced on Sunday, January 13 - along with one last SG giveaway - and entry cutoff is 6PM CST. That gives you a little over 24 hours to enter and you can enter multiple times as long as you've already done steps 1-4.