And a few pictures of our Valentine's Day: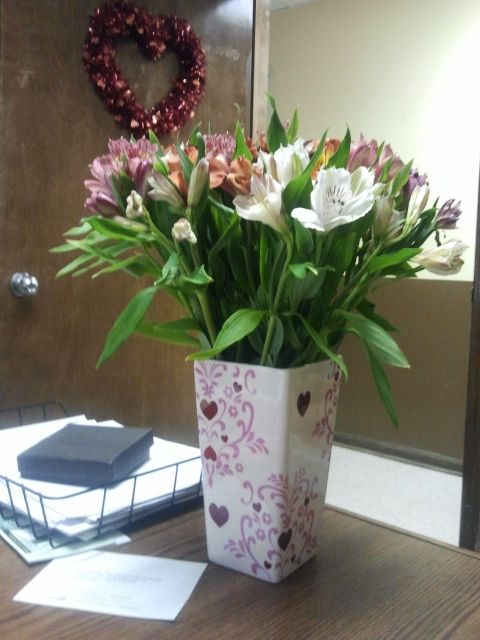 These were delivered to me yesterday at work. I love that Chris is thoughtful enough to send flowers a day early if the special occasion falls towards the end of the week, that way I can enjoy them being on my desk for a longer period of time.
My personal favorite part of getting flowers from my husband? The card. At this point, Chris has given up on writing something romantic and meaningful on the card, which is absolutely fine by me. This year's card mentioned not only the fact that I'm lactose intolerant, but also included an apology for not buying me a metal detector.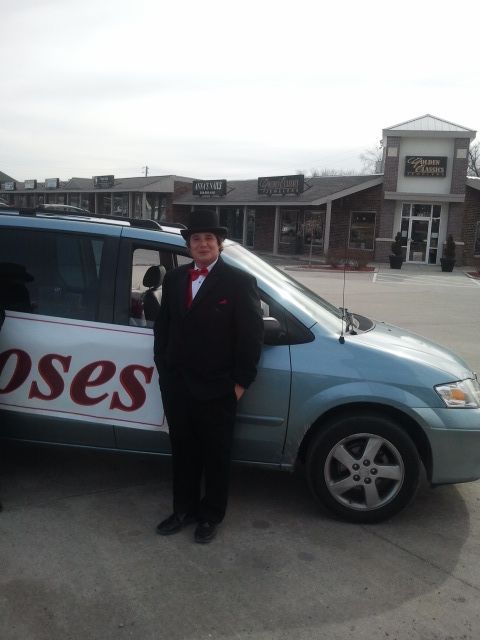 "I hate you. I know this is going online."
Raise your hand if you only worked a half day today! I love being able to say that - especially when that half day includes taking pictures of your 27 year old brother dressed like he's going to prom.
Correction: dressed like he's going to prom AND selling roses out of a mini van!
Then, because this is my life and crappy things just seem to happen to me, I'm getting ready to leave when my best friend comes in telling me that the Mom Mobile has a flat tire! Son. Of. A. Beast.
Long story short, I took the Yukon to Clint's in Harrisonville and after one visit, I'll definitely be a returning customer. Super nice guys - so nice I didn't even mind when they called me ma'am! They got me in and out in 30 minutes, and even though my tire was beyond patching because it was already in such bad shape, they gave me a loaner replacement for free and quoted me prices on 4 new tires. I'll be back in a few weeks for those because the prices were good, and I'm definitely already looking forward to having their big orange shop cat curl up on my lap again...
I had just enough time to get home and pick up Granny before hauling to the school for Mia's 2nd grade Valentine's Day party!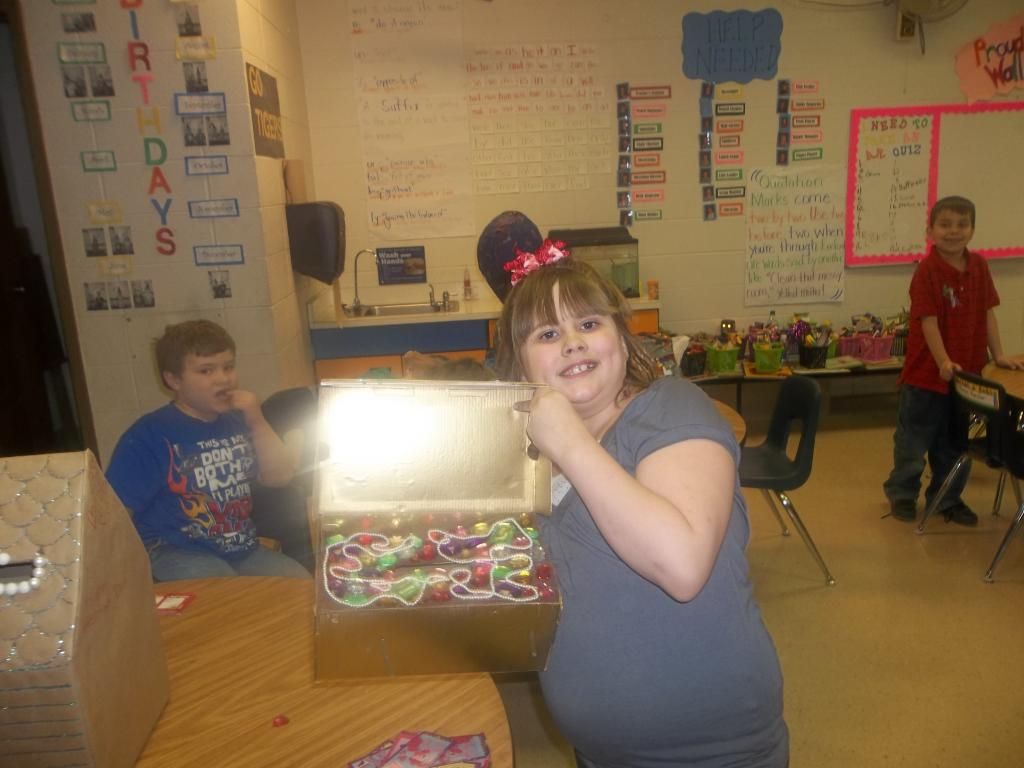 Treasure chest Valentine box. Looks pretty decent, right?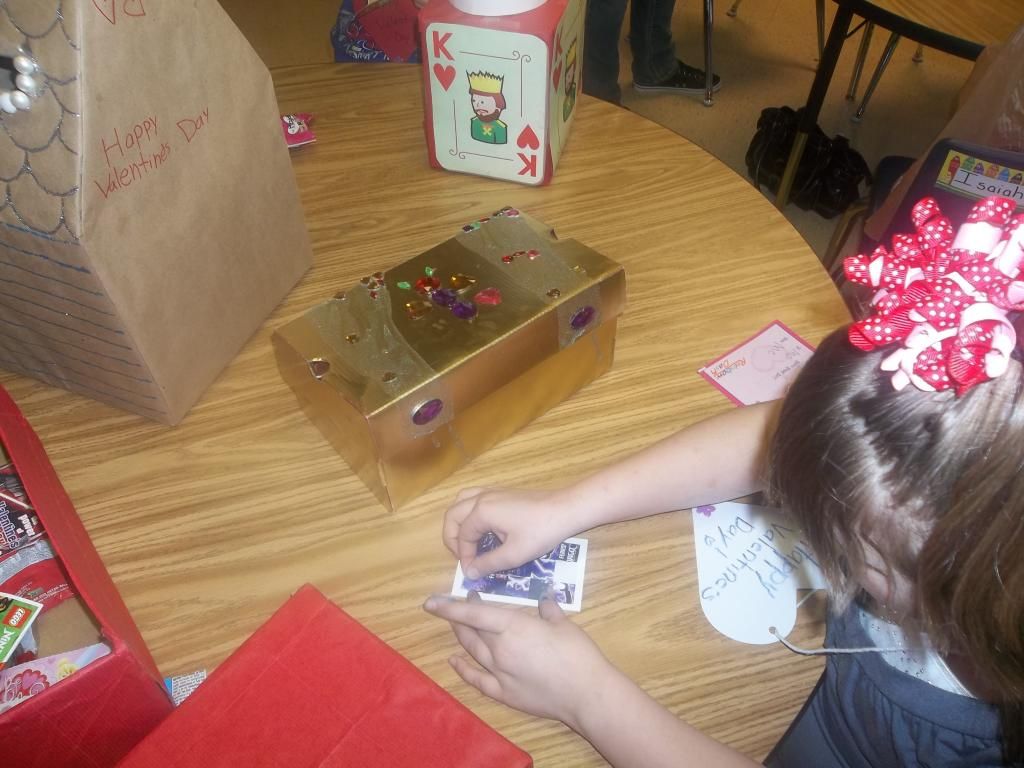 Maybe the top was covered in jewels too originally. Maybe those jewels slid
down in their glitter glue and stuck all crazy like to the BACK of the box... Mom fail!
Is there anything more disgusting than your aunt smooching you in front of the whole class?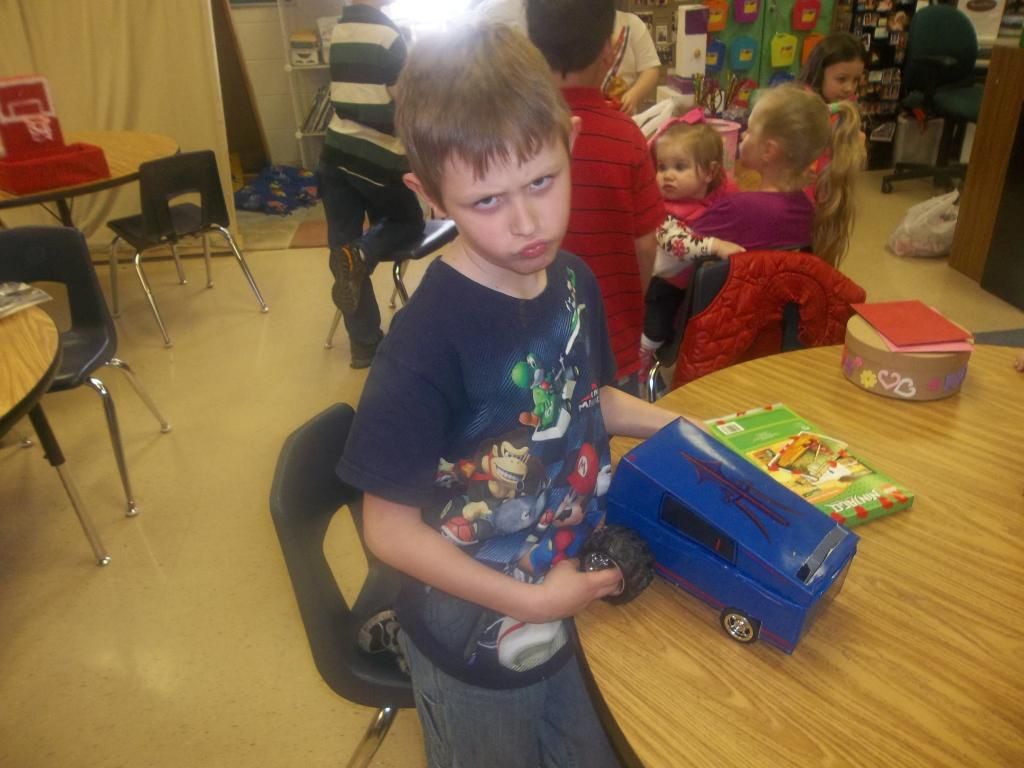 "No." - Grumpy Cat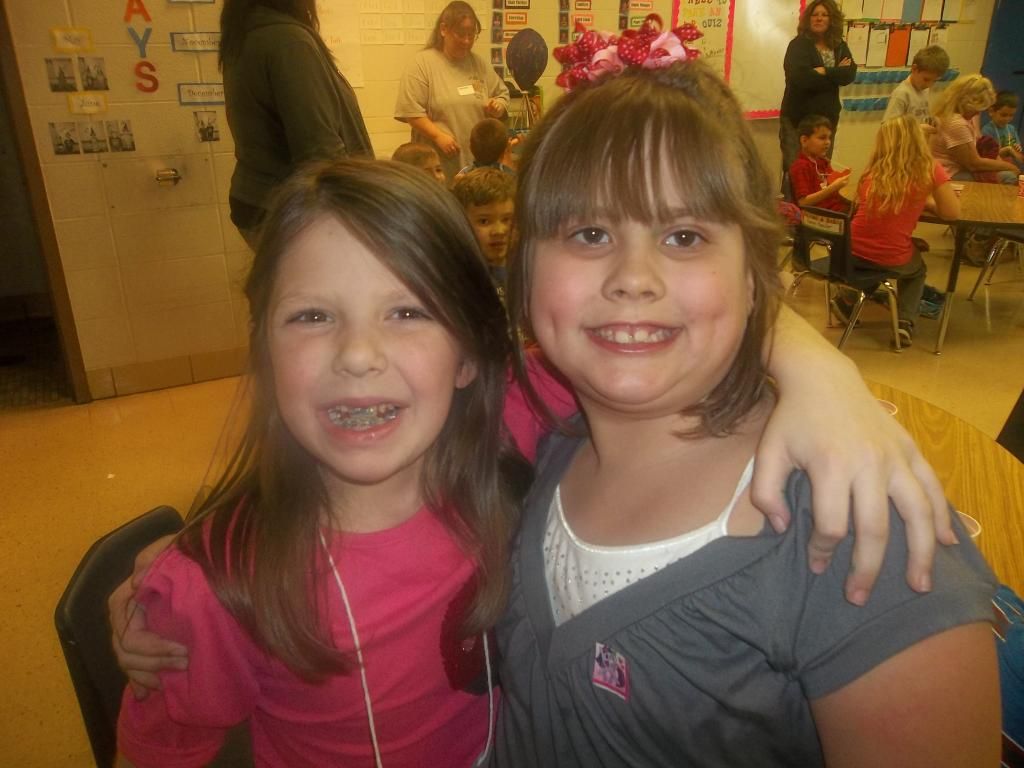 Sweethearts on V-Day!
And the food... Cheese tray, cookies, rice crispies (hello pink with sprinkles), fruits and marshmallows for the chocolate fountain, and classroom tradition: homemade meatballs. Guys, it's Valentine's Day: OF COURSE THERE WAS A CHOCOLATE FOUNTAIN!!!!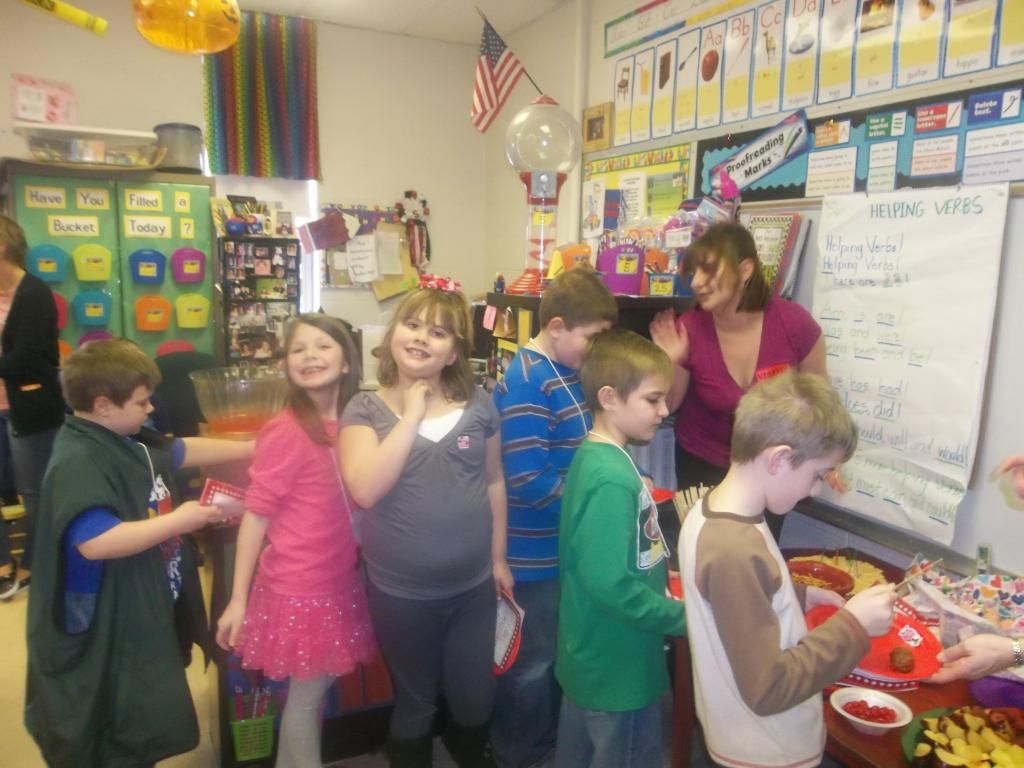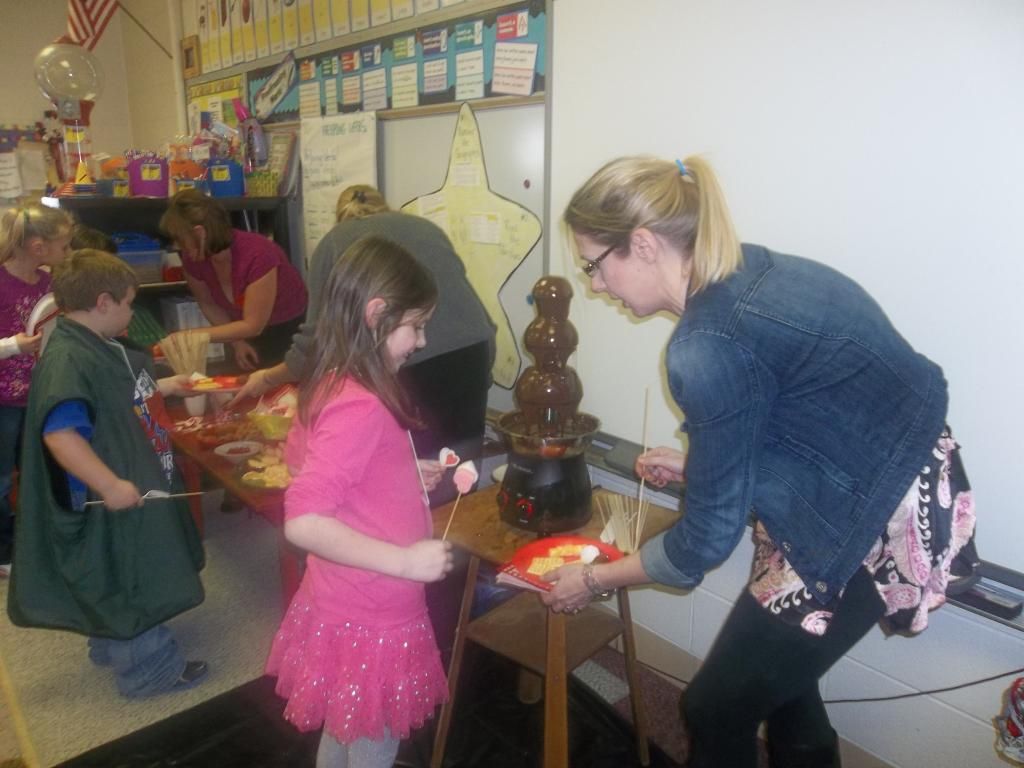 Before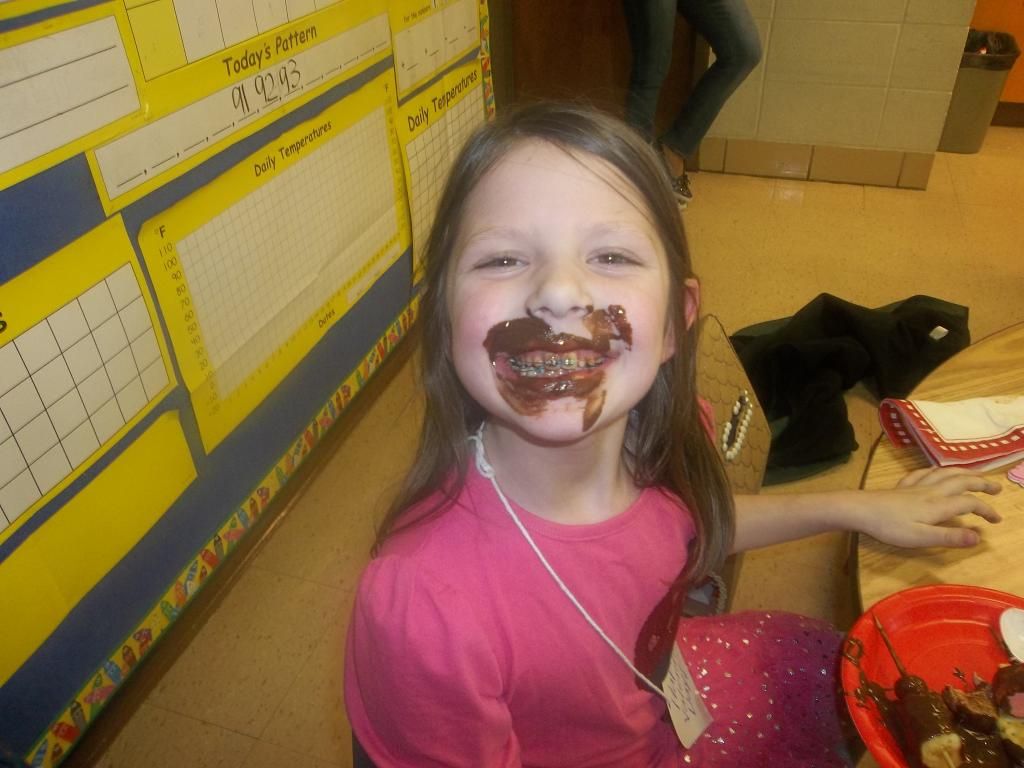 After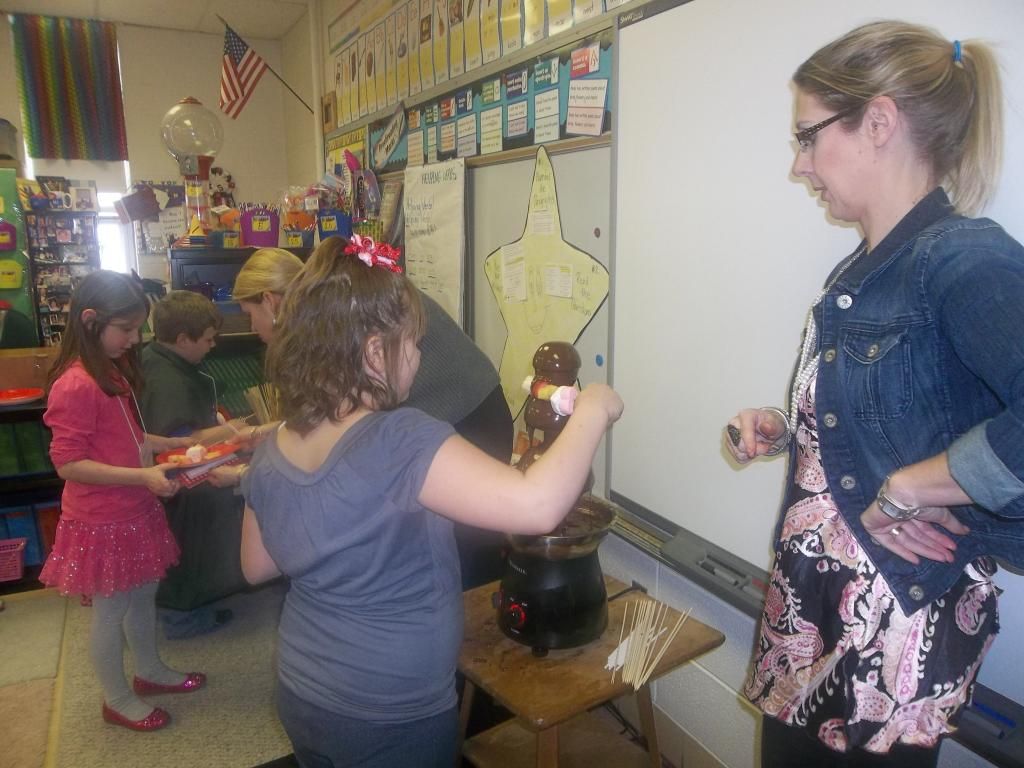 Before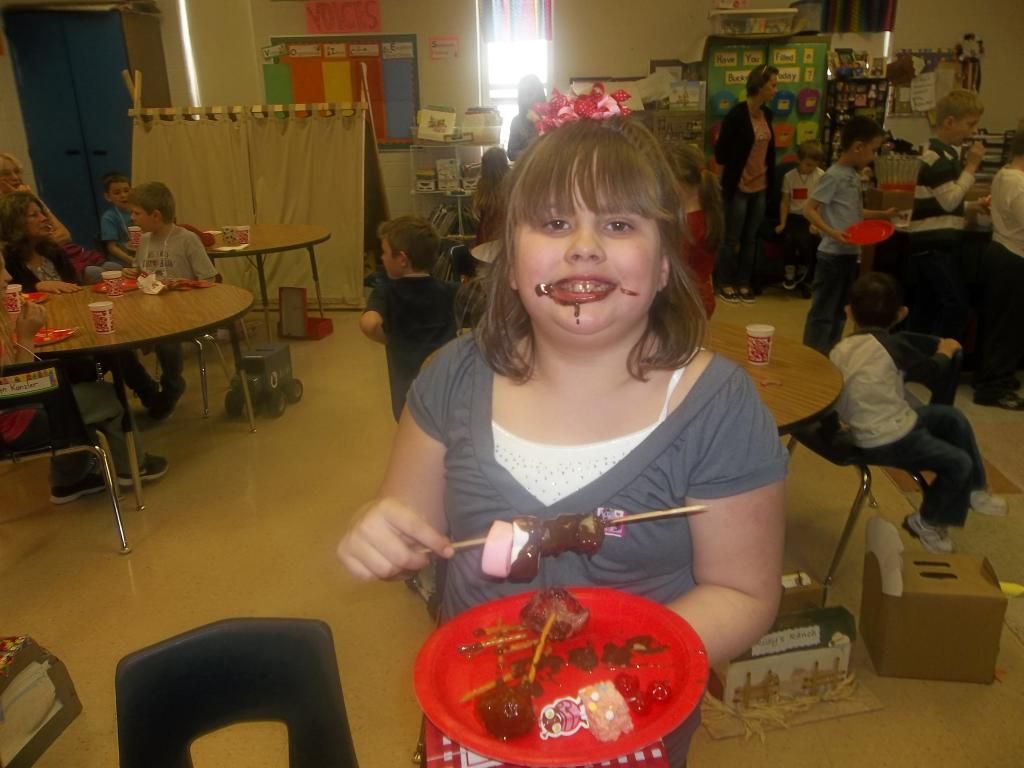 After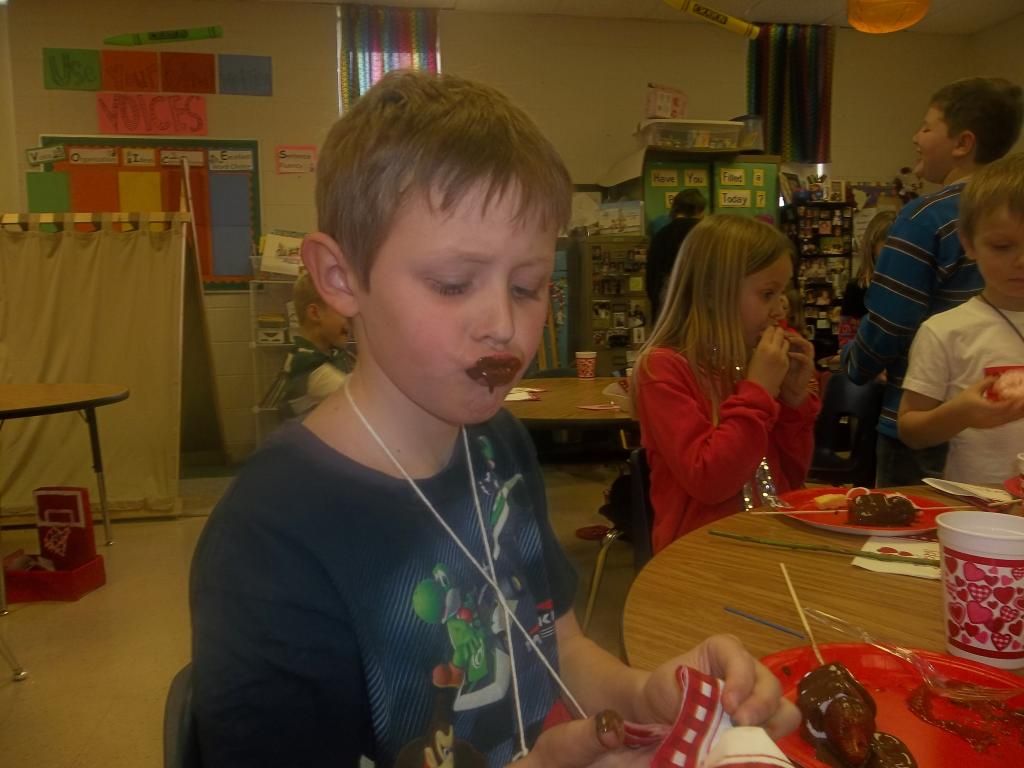 This kid doesn't even like chocolate!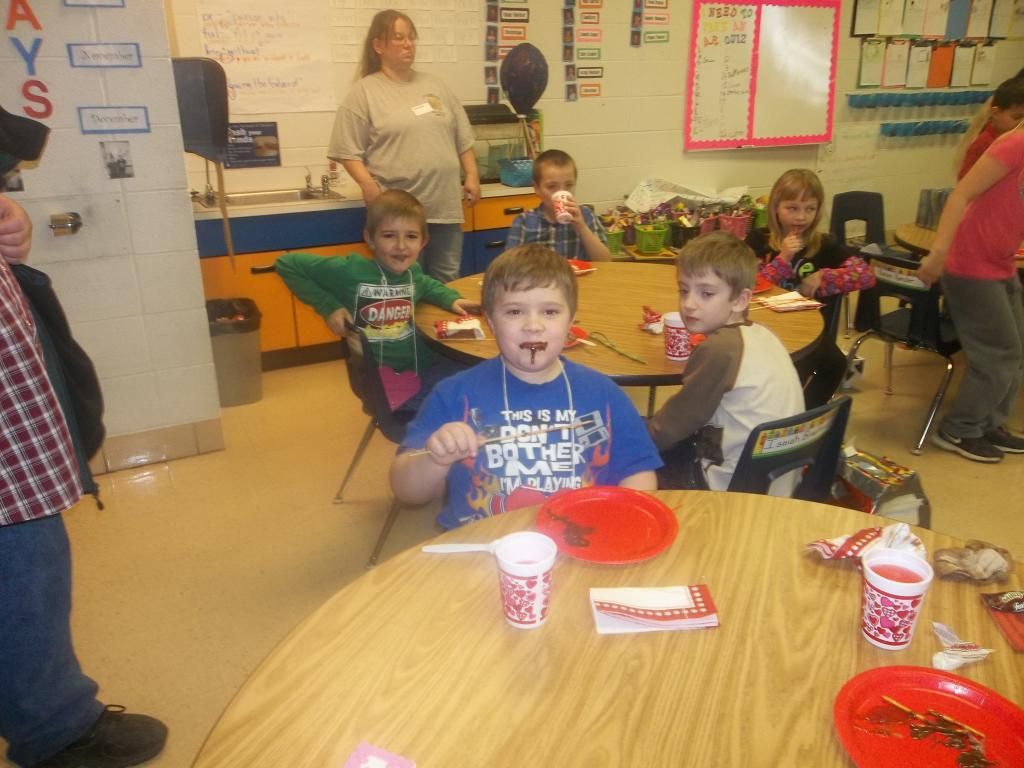 Hayden - the boy I look forward to seeing at every school function. He's absolutely adorable!
You see where I'm going with this, right? CHOCOLATE FOUNTAINS ARE NECESSARY FOR ANY FUTURE PARTIES!
Have mercy, there is nothing like a room full of 7 and 8 year olds to make you feel old and ready for a nap!
I didn't have time for that lovely nap, because once we got home we rounded up the kids for a romantic family dinner at IHOP. Yes, IHOP. We enjoy the finer things in life 'round here. Not as fine as the steaks I'd bought for Valentine's Day, but hey - if I'm not going to have to cook or clean up after supper, by all means, we'll go have breakfast at 5:30PM.
Sadly, I didn't get any photos at IHOP because I was too busy shoveling hashbrowns into my mouth like there was no tomorrow! P.S. Mama loves hashbrowns!
Now, imagine this post-supper scene if you will:
We get home from a lovely Valentine's Day supper at IHOP. Coats and shoes are removed and have been put away, Valentine's Day cards from Grandma Debbie & Grandpa Tom have been passed out, it's time to put the kids in the tub.
All three kids go in the shower at the same time, but they rarely stay in the shower the entire time together. Miles is quite a fan of running through the living room several times during bathtime, leaving a trail of soapy water all through the house. (Yes, I let Miles get in with his sisters. He's two and everyone's pee pee is the same in his mind but that's beside the point.) As bathtime is winding down, Miles comes out into the living room naked as a jay bird:
"Miles, show Daddy your butt!"
Such an obedient child, Miles turns and shakes his little booty at his dad. We laugh as he takes off running into the other room and are distracted by Mia as she comes out jabbering away. Moments later, my baby boy comes in again and this time when he shakes his booty Mia is totally grossed out:
"Oh! Eew! Does he have poop on his butt?! Is that poop?!"
Lo and behold, it was poop. What kind of kid gets cleaned up, exits the shower to moon you, accidentally poops on the rug (gross), and never stops giggling? Mine.
"Marlee! Quick! Get out of the shower, Miles has the runs!"
"Oh my Gawsh! Dere is POOP in da showa!"
Good night, sweethearts!