You read that right, friends: we had a real life grown up date night on Friday! One that doesn't involve Happy Meals, packing Monsters Inc pull-ups, sippy cups filled with chocolate milk, or screaming fights over whose turn it is to play the Furby Boom app on Mommy's phone.
It. Was. Awesome.
I even spent a full 2 hours primping just for the hell of it... and because Grandma Debbie was kind enough to come up from Columbia to keep the wild bunch.
Where did we go on this grown up date night? We went to the Sprint Center in Kansas City to see Jason Aldean, Florida Georgia Line, and Tyler Farr. Well, we went to see Tyler Farr - the others were just an added bonus, but really, Tyler.
*Back story for non-locals: Tyler Farr grew up in Garden City and grew up to be a gosh darned famous ole country music singer. Everyone around here has about a million stories from growing up with him. To put it mildly - so SO proud of him!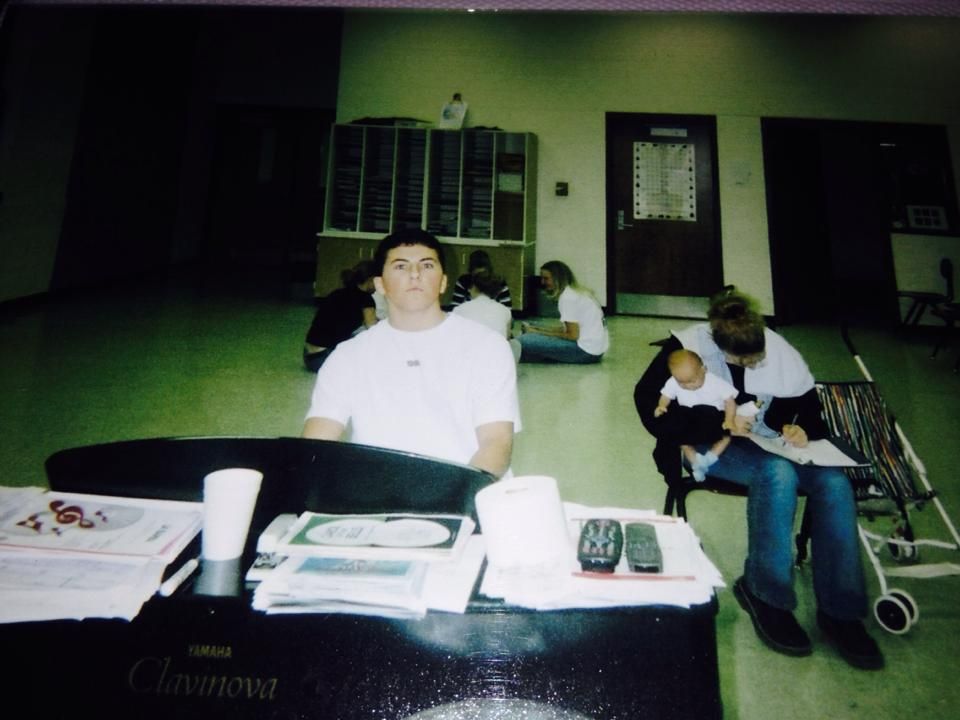 Just for funzies: I believe this was actually women's choir class and the boys just stopped by to hang out.
What if we left the house late, had to get gas, then remembered we hadn't stopped at the ATM and had to drive back across town before heading to the city - do you think that would make us late to the concert? If you said yes, you'd be correct.
What if we made it to KC and then couldn't remember which exit we needed to get to Sprint Center? What if we randomly picked an exit and then I couldn't figure out how to use navigation on my iPhone? What if Siri is a sneaky bitch who gave us directions 'from our current location to the Sprint Center in Kansas City, Missouri' and the directions took us in the exact opposite direction? What if we figured out where we were and then couldn't find a lot to park in and drove aimlessly for 10 minutes before deciding to spend $15 for the 5th floor of a garage? What if we hauled ass to the elevator, took the trip down to ground level, and THEN remembered that WE LEFT THE TICKETS IN THE CAR?
Guess who didn't see a single song out of Tyler's set? Chris and Jen Palis.
BECAUSE OUR LIFE IS ONE FRUSTRATING MISHAP AFTER THE NEXT!!!!
Oh sure, we heard him singing (and he sounded awesome - goosebumps and everything), but as far as seeing him on stage? Nada.
Guess who we did get to see though? Florida Georgia Line. The band we were the least excited to see...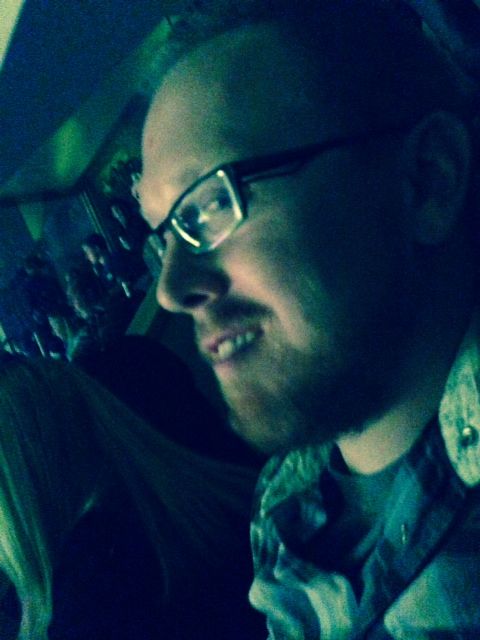 "Chris, show me a face that depicts how excited you are to see FLA/GA Line"
He isn't very good at faking it, is he?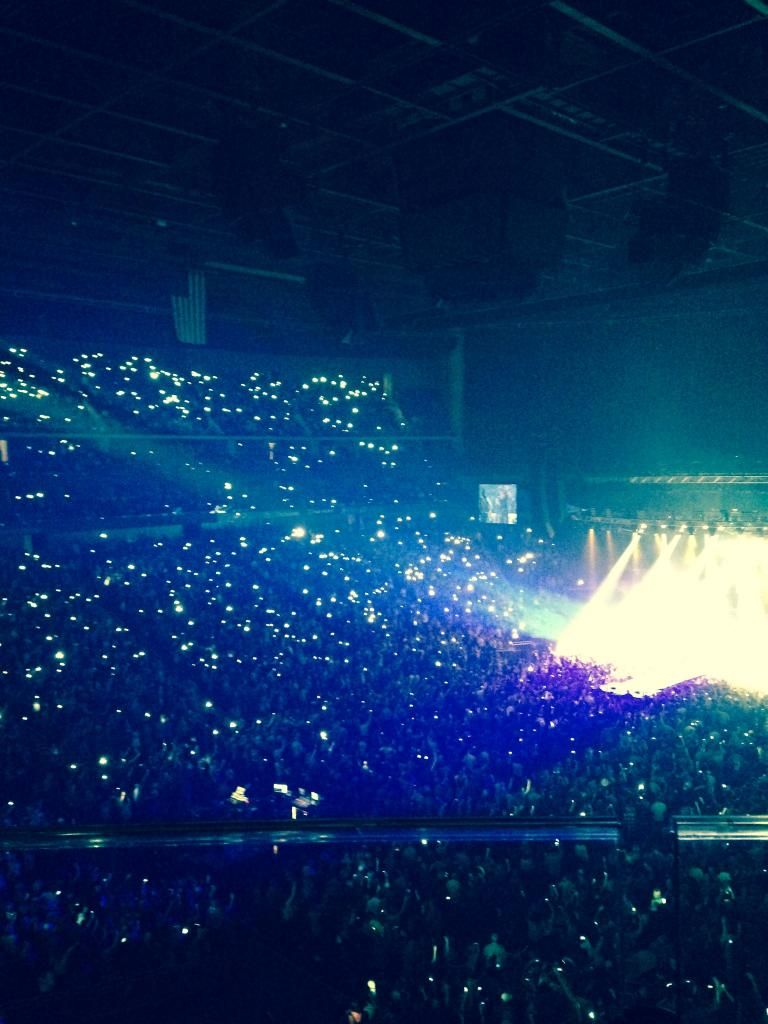 'Get Your Shine On'. I sang along and my husband said "Gosh, Jen, I love paying a ton
of money for concert tickets to hear you sing at full volume like you do in the car..."
A selection of comments from the Florida Georgia Line set:
Is that sleeveless or a vest? Jesus... it's a leather vest...
Are all of their songs going to have the video playing in the background?
Oh my God!!!! All of the words are flashing on licence plates on the screen so we can sing along! (during 'Round Here')
Why does he keep doing that 'I'm getting a blow job' motion while he sings?!
I want long hair to put on a shirt under that vest. He's really creeping me out.
Jen, our commentary is offending everyone around us. They love FGL and hate us right now.
Nooooooooo! (with hysterical laughter as they did a Bruno Mars cover)
He looks like the singer from Creed and he's singing a song that sounds like Nickelback. Poor rich dude. (During 'Stay')
Oh! Missed that crotch grab!
I really think they should've asked Tech N9ne to sing Nelly's part. (during 'Cruise')
Actually, they put on a really good show and we had a lot of fun during their set! Guess who else did? This drunk guy: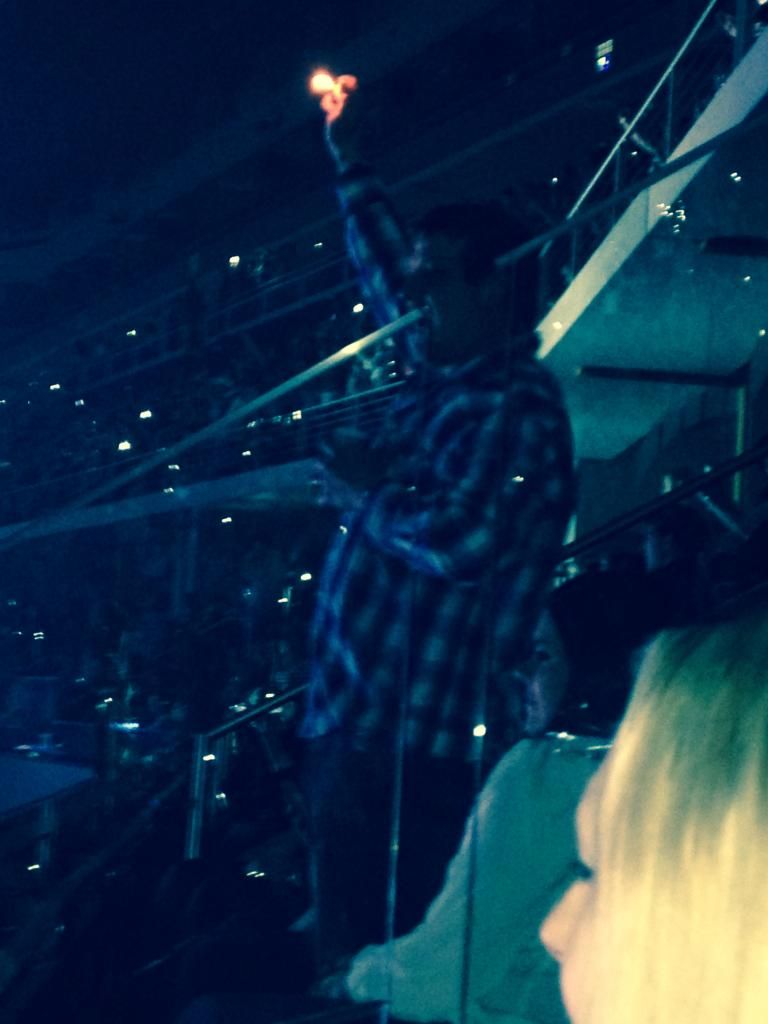 Even the strangers next to us were taking his picture! He was obviously having the time of his life, guys. Sure, the lady friend that he'd brought as his date seemed mortified, but I'm sure when he woke up on Saturday morning - likely hung over as a mofo - he had no recollection of her embarrassment.
Next up was headliner Jason Aldean. I'm a big fan, you guys - I knew after 2 beers that I'd be ruining the entire show for Chris. And no, I didn't care!
About the photos, we had decent seats, I just take absolutely horrible pictures. Sorry 'bout that!
Jason Aldean put on an incredible show and it was his birthday, so it just so happened that he'd brought a special guest to sing with him...Kelly freaking Clarkson!
Guess where I was when Queen Kelly came on stage to sing 'Don't You Wanna Stay'? In the bathroom. Of course. We came back in just in time to hear the last chorus and see her walk off of the stage. Life is one cruel joke after the next, friends!
Finally, we got to see Tyler sing when he came back out to sing 'ACountry Boy Can Survive' with Jason Aldean. Maybe I got choked up... I definitely got choked up...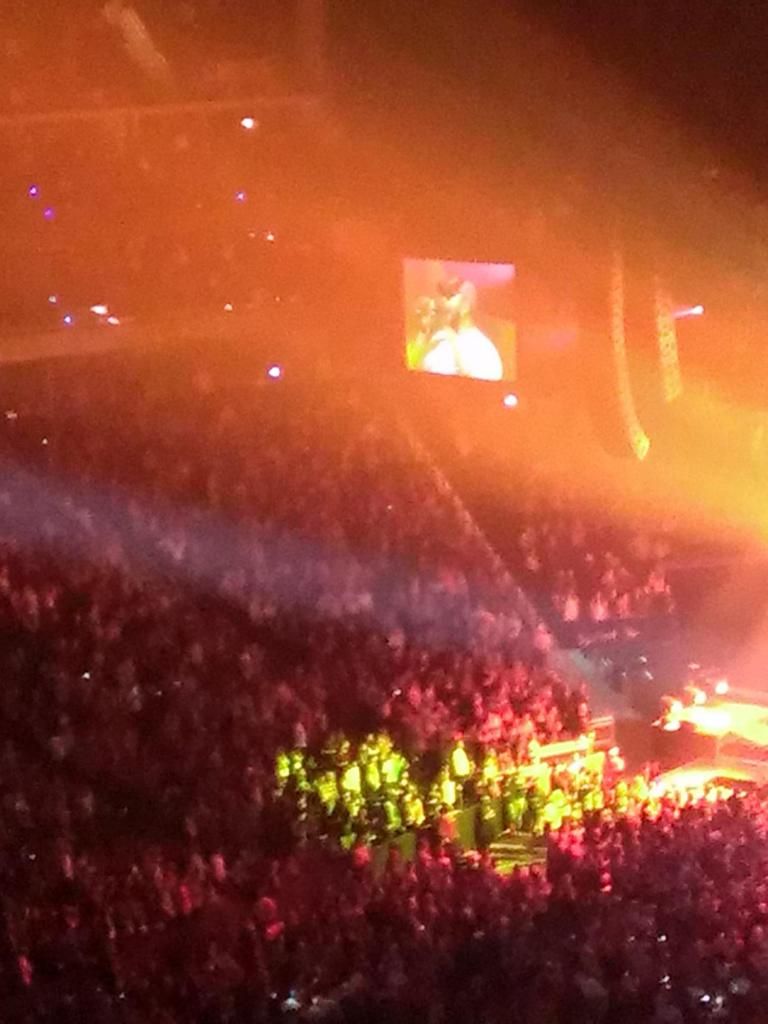 We took bets on whether a Royals jersey would make an appearence at the concert. Nailed it, y'all.
And then after the show? We ran into some friends of ours who actually live just down the street and talked until we got kicked out of the Sprint Center, only to continue our conversation outside in the freezing cold! Tony & Tonya, we're having a GC barbeque as soon as it's warm enough!
Let's see... then we got lost for a minute in the parking garage, and got lost for a long time when we pulled out of the parking garage and back into downtown KC...
CHRIS: Babe, if you can get me to any highway, I can get us home.
ME: Who do you think you're talking to? Once I'm past Grandview, I'm totally lost. Jeeeeeesssssuuuussss! Don't turn right here, you're fucking headed down TROOST!!!!
Then we took the really long way home (I-70 East to 291, anyone?) and made our pilgrimage to the Waffle House. You guys know I can't pass up the chance to eat my hashbrowns smothered, covered, and topped!
Around 2AM, we finally made it home. You guys, I'm too old for this shit. This is why we only go on dates once every 2 years or so.