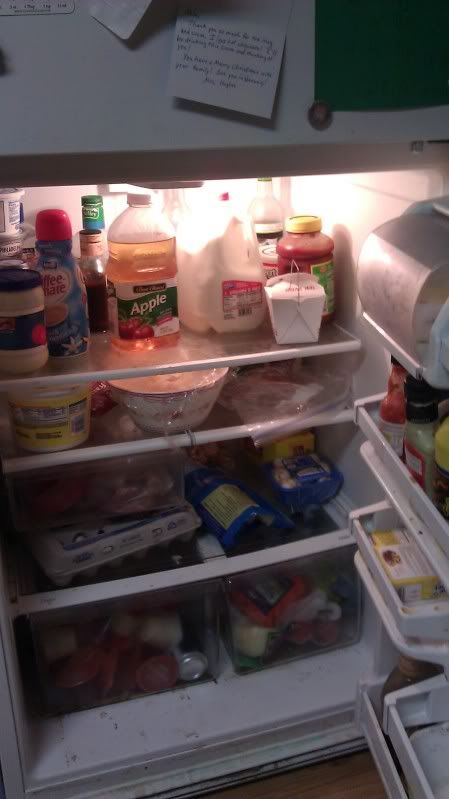 Disclaimer: Still not a celebrity fridge, still filthy.
As I've said
before
, I don't cook on Friday nights as a reward to myself for surviving the work week. There are usually plenty of leftovers in the fridge and usually someone who wants to eat them.
Sometimes we feel like having another helping of a dish, other times our palates crave a different flavor. Either way, we taste and we digest, whether we like it or not - kind of like life in general.
Pull a chair up to the table and feast on the leftovers of my week...
MONDAY:
One thing I hate about winter (besides the cold), is that the quality of fresh produce goes down while the prices go up. In warmer months, we have fresh asparagus with supper at least two nights per week. "Eat your veggies or you can't have any dessert!" Done. My kids freaking love asparagus. I broke down and bought some canned asparagus over the weekend because the real thing was just pitiful and seriously overpriced. It doesn't measure up, trust me. But... I did do a double pour while draining the liquid from the cans like a kick-ass bartender. Coyote Ugly's got nothin on me with my mad double pouring from vegetable cans skills.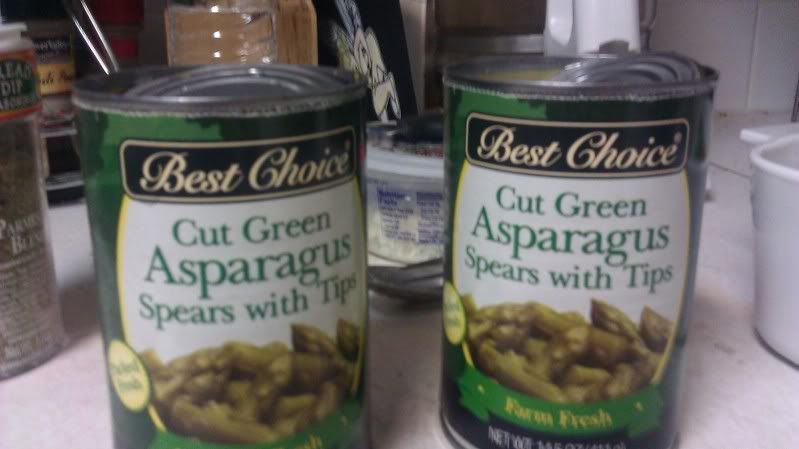 Can it, bitches!
TUESDAY:
So maybe I had a little hissy fit when I got home from work, but when I came in and settled down it was that elusive uneventful night in with the family. The kids played nicely together in the girls' room for most of the evening. There was a performance by Electric Kitten featuring Mia on guitar, Marlee's vocals on the Dora microphone, and a modern dance solo by Miles. Who wouldn't want to hear 'Twinkle Twinkle Little Star' sung 37 times in a row? Yeah, me neither. It's not as cute once you pass round number 11. Lots of adorable squeals and giggles came from that tiny disaster zone while they played. After a while, it started to seem too quiet. I went in to check on them and this is the sight I saw: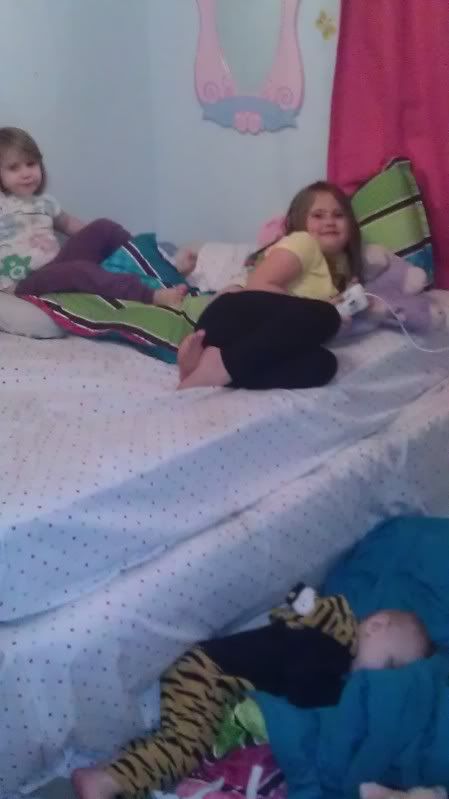 Caution: Sleeping baby ahead, sweet girls on the bed.
I've said it once, I'll say it a million times - I absolutely love when I suspect they're up to no good and catch them being angels instead. Thanks for the solid, holy man!
WEDNESDAY:
Mia has Girl Scouts every other Wednesday night. While I sometimes dread Scouts night because I'd rather come home and do nothing, I look forward to the drive home where it's just my big girl and I. It's a short drive, but we have a routine where we pull out of the parking lot and search for a song that we can both sing to. Then we drive around town with the volume cranked, singing along to the radio. We don't come home until our song is over. This week?
Rihanna - "We Found Love"
THURSDAY:
How'd I start out my day? By realizing that Chris took my car keys with him to work approximately...5 minutes before I needed to leave the house. He works 45 minutes away from home. Use my spare? What spare? Jimmy drove me to work and then was nice enough to leave me with his car so that I could go to lunch (he and I work in different buildings, but for the same company). As nice as it was, I couldn't help being frustrated by the whole damn situation. Riddle me this: is there any one thing in the whole world that makes you feel as incompetent as getting situated to drive someone else's car? No! After 10 minutes of piddling, I still couldn't figure out how to scoot the seat up or tilt the steering wheel down. I drove across town on the edge of my seat - hands at 10 & 2 - with my face all of 3 inches from the wheel. I kept attempting to turn up the volume on the radio using the buttons on the steering wheel, only to find that I had repeatedly turned on/turned off the cruise control. And every time I went to use the hand crank to roll the window up, I rolled it down a little farther.
Trashcan / floorboard...it's all the same thing.




FRIDAY:
You may remember that Big Sister is clearly an overachiever. She's super smart in a "Really... it's completely baffling that you know all of this at the age of 6..." way. On the first report card of the year, she had all As except in handwriting. "Mommy, one day we won't have to write anything - we'll just type it on computers." Clever girl, my Mia. She's got a completely logical, reply for everything. Seems she took that whole 'riding her ass about her handwriting' thing to heart.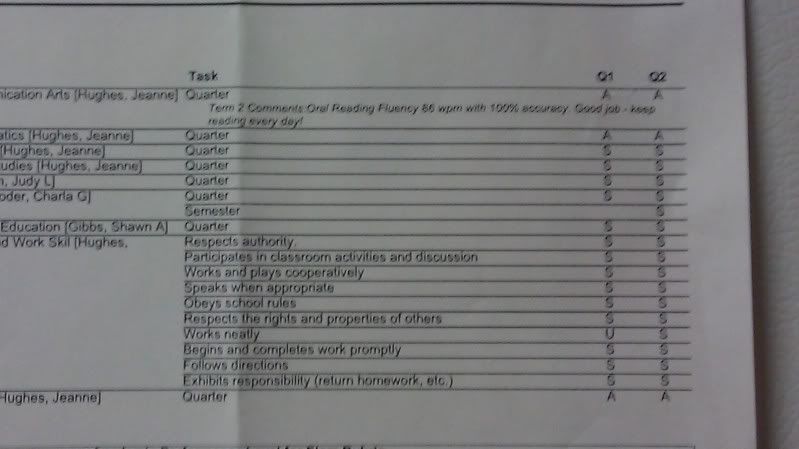 Looky looky - someone's getting a satisfactory mark in the spot where the unsatisfactory had been marked last semester.
If you'd like dessert, there's pudding in the bottom left hand drawer of the refrigerator. Chocolate AND vanilla. Mia's not the only overachiever in the family...
*****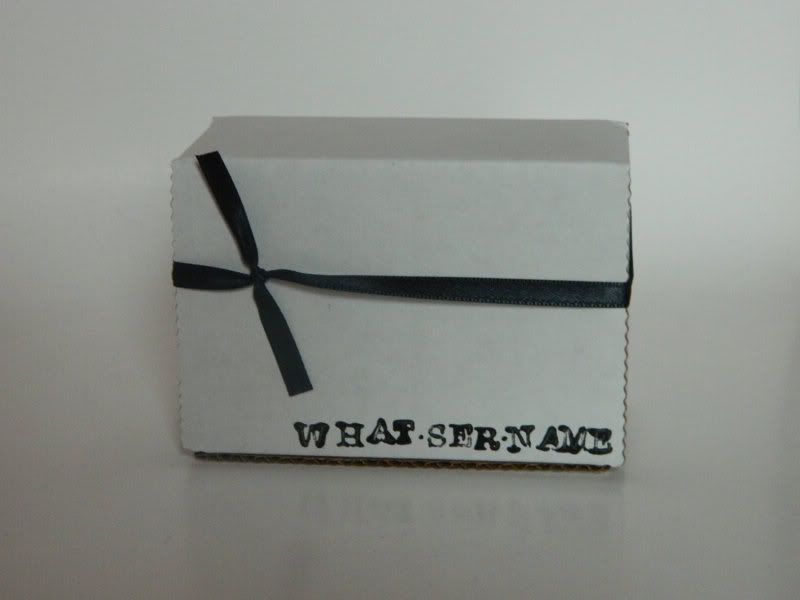 Big ole blog welcome to
Whatsername Jewelry
, a freshly minted sponsor on High Heels & Dirty Dishes!
Whatsername Jewelry
is based in East Providence, Rhode Island and specializes in handmade polymer clay jewelry. Excuse me, handmade polymer clay jewelry that is not only cool, but also markets personalized items at a very affordable price. Super personalization - by date of birth, not by given name.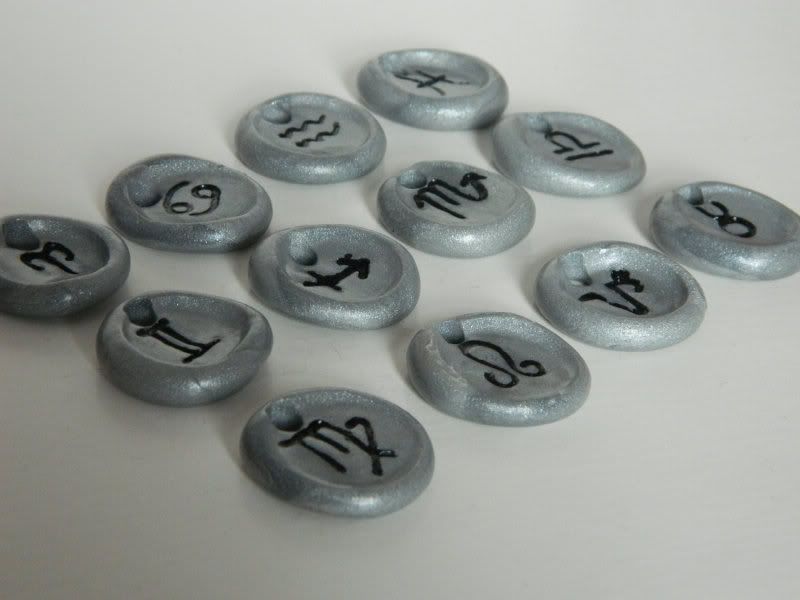 Handmade Zodiac Charm Necklaces (cotton cord included, not shown)
Virgo (The Virgin) - Common traits: modest & shy, meticulous & reliable, practical & diligent, intelligent & analytical. On the other hand: fussy & a worrier, overcritical & harsh, perfectionist & conservative.
Yep, sounds about right... My birthday is September 18. I'm a Virgo all the way - except the virgin thing since I've actually been all the way...

Blue & Gray disc bracelet, Ravishing Red bead bracelet, Amazonite & Swarovski crystal stretch bracelet
In addition to Zodiac motifs,
Whatsername
features beaded bracelets in a variety of colors and styles. Me personally? I'm a bracelet whore. I can't wear just one at a time - more like 5 at a time.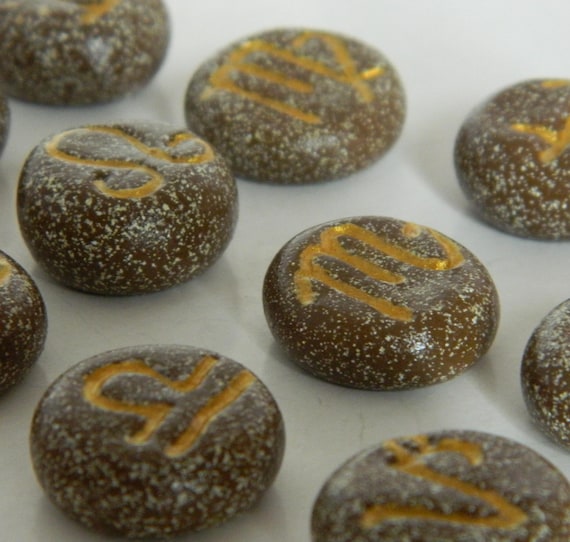 Handmade Mini Zodiac Totem
And these guys - small enough to carry in your pocket for a little added luck in your life, and what better way to start out the new year than with some good luck? And the price for your new lucky charm is only $2.50.
This is just a little taste of what
Whatsername Jewelry
has to offer. To view the entire collection, visit their
Etsy
shop, and make sure you stop by the
Whatsername Facebook Page
and LIKE them to receive updates on promotions, new inventory, and more!
To help welcome Whatsername to the ole blog, I want you to answer a simple question for me in the comments, and try not to laugh when I ask "Hey baby, what's your sign?" And then tell what your favorite meal of leftovers is (I live for day-old meatloaf...)!