I'd like to make a confession about last night's blog piece: I almost didn't post it.
The title was saved a few weeks ago when I came up with the idea, but even then, I had this bitchy inner voice that nagged "Sure, some might relate to the fact that your house is in shambles, but there will be more who actually clean their houses and fix things when they're broken. Those readers? They'll judge you, and they'll hate you." So I chickened out - and I almost chickened out again last night.
Then all of a sudden, it hit me that I really don't give a flying fuck if people are impressed with my housekeeping skills and I hit PUBLISH POST. Why should I even pretend that I enjoy doing something that has brought me nothing but misery since childhood? I hate to clean and I have the stained carpet to prove it, folks!
Seemingly, a lot of people feel the same way - or at least got a good laugh out of the lack of prioritization that goes on in our house. Thank you BlogHer!

And!!! If you follow this
link
, the ole blog is right there at the top. They even put this sweet bit of flair on it like an award. (Sidenote: Just now, thinking of this as an award I got to imagining what I'd say in my acceptance speech... but snapped out of it upon realizing my kids would definitely pull a Kanye and ruin it for me. Probably because they need bologna sandwiches or something.)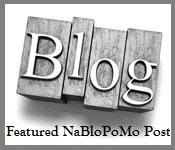 When I got home, I had another awesome surprise waiting as a direct result of last night's blog post.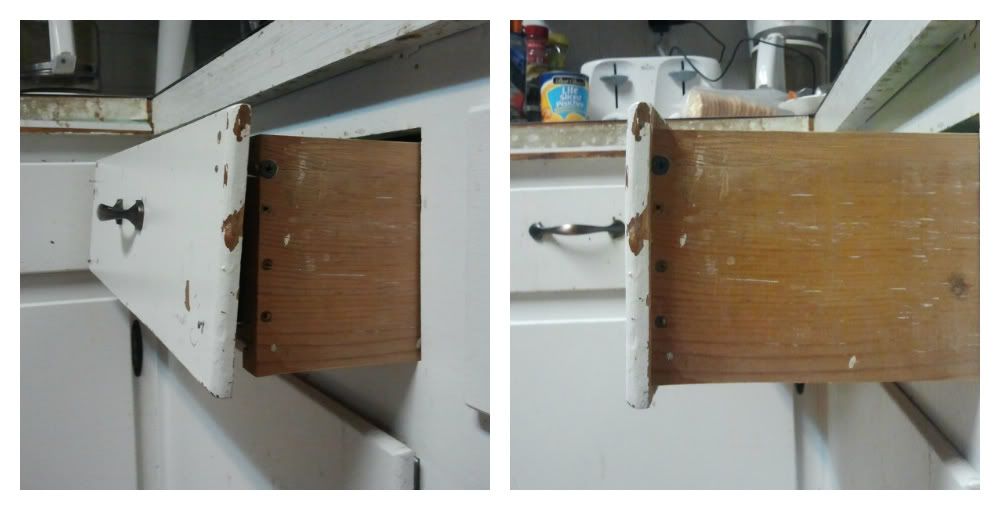 One of these things is not like the other...
Chris decided to fix the silverware drawer. What a stud, right? He's so macho...
And then, to reward himself for his electric drill handiwork, he felt me up. I just stood there, eyes rolling in boredom. "Come on, babe! It takes all of the fun out of it when you don't fight back!" Spoken like a true pervert.
*****
The kids have a small tent. They got it for Christmas a few years ago from one of the great-aunts and they absolutely love it. Our tent is set up and taken down about 5 times each day as of late. Only problem with said tent? Someone always ends up crying after being in the tent for a while.
Isn't that like every God damn camping trip you've ever been on though? Hmm...OK, well it is for me.
Tonight, I had this brilliant plan to keep the kiddos occupied (detour them from their typical early evening knock down, drag-out) while I ate a sandwich: Why not let them each pack a bag of supplies to take on their upcoming tent adventure?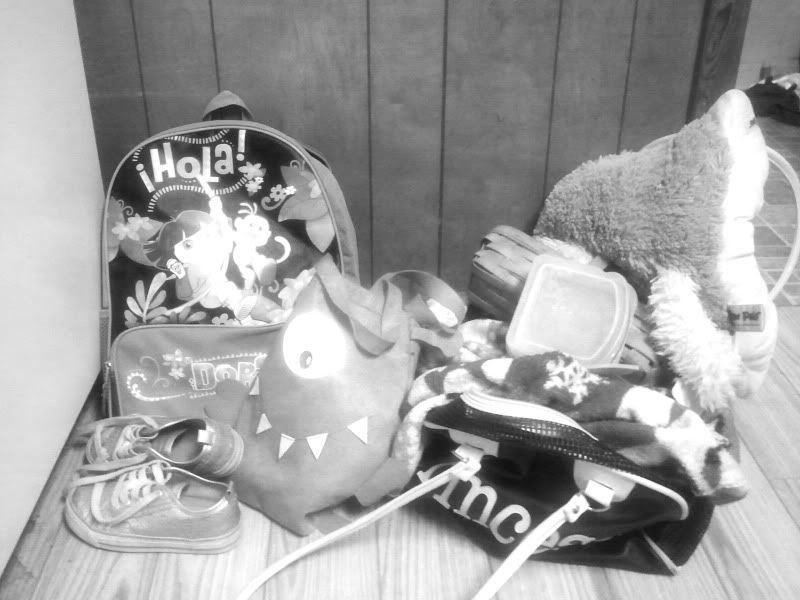 Nothing in the house was off limits. We just told them to choose things that they thought they'd need if they went camping, and put it in their bags. And to please stop screaming at each other...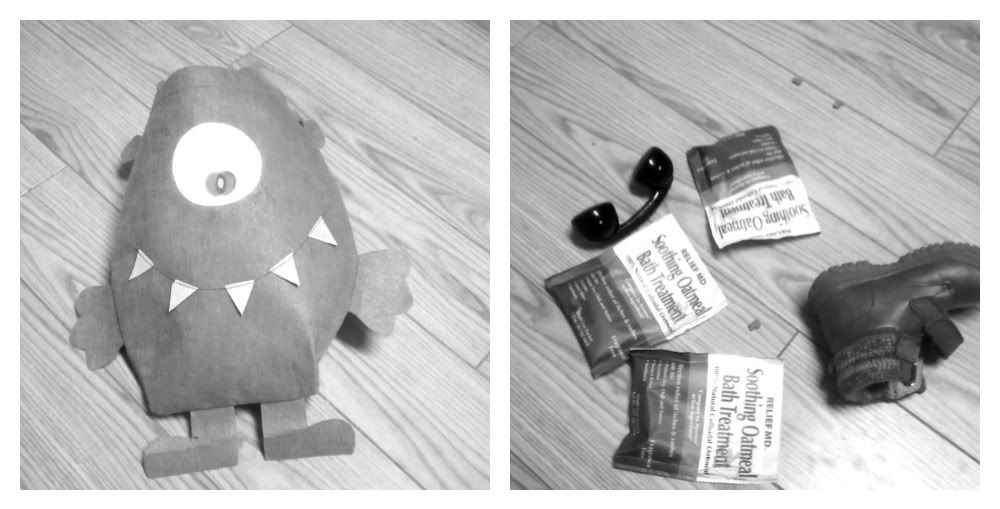 Miles: 1 blue plastic phone, 3 packets of soothing oatmeal bath treatment, 1 boot, and 3 pieces of cat food
Looks like Daddy's not the only fella in this house who's man-crushing on Bear Grylls. He's what outdoorsy types would refer to as a survivalist. The bare minimum - that's all Miles needs on a camping trip. And his thumb. He's my thumb sucker!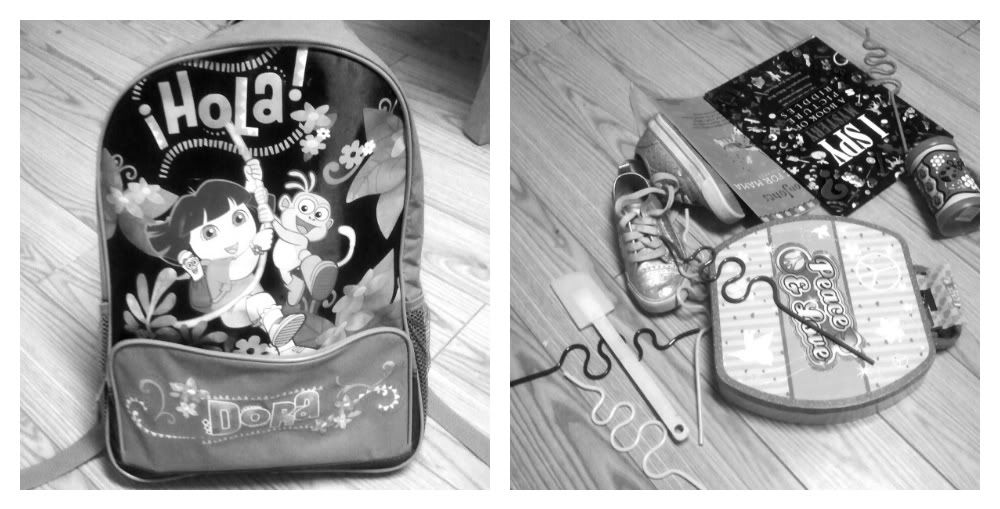 Marlee: 1 pair of gold sneakers, 1 Pampered Chef spatula thing, 5 crazy straws, 2 books, 1 ladybug mug, and a box filled with her big sister's makeup
Mar is my diva. Even if she's walking through a field of poison ivy, sista's going to be rocking the shit out of some gold shoes!
If she were older, I'd guess that she had the makings for a really awesome party in her Dora backpack. I remember a few float trips where I packed similar items...back in the old days, before I had kids and grew tiger stripes on my belly...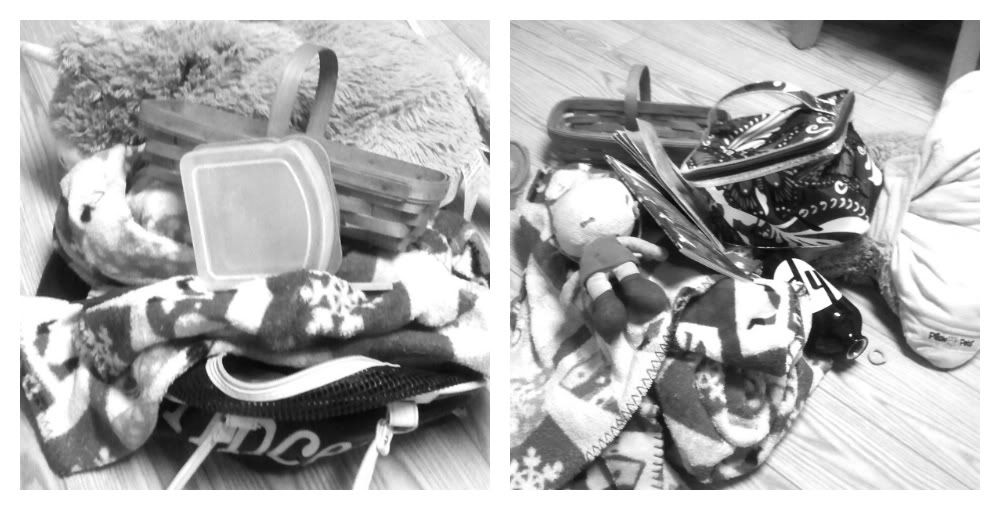 Mia: 1 blanket, 1 doll, 1 pillow pet, 1 canteen, 1 hair tie, 2 books, 1 sandwich box, 1 basket, and MOMMY'S makeup bag
True to her status as firstborn, Mia is the responsible child. Chickie packs the most practical items, even attempting to cram a little extra even though the bag is already overflowing. She packs just like her mama. I was bursting with pride!
MARLEE:
I know! We can pack Minnie for da camp out!
MIA:
Marlee, don't be dumb. I'm packing only needs, not wants. You should too.
MARLEE:
Ok...Hey, how 'bout cookies?!
MIA:
Good job, Mar Mar! We do need food!
Somehow, the cat ended up in a backpack anyway...


What did the kids do once they'd finished packing their camp out bags? Well...

They had a blast - that's what they did! Then bedtime arrived, and of course, so did the tears. The difference in their camping trip and the camping trips I've been on (besides beer)? For them, the tears start when it's time to come out of the tent for bedtime. For me, the tears come when it hits me that I'm sleeping in a God damn tent.
*****
Hey - who's checked out the AMAZING sponsors currently featured on High Heels & Dirty Dishes?
Everyone, right? I surely hope so because these ladies are seriously talented. The only thing that I can make with my own two hands is a mess... If you haven't already done so, please click on the designers' ad boxes on the right side bar!
Tonight, I'd like to announce the very first giveaway on the ole blog, courtesy of Deb from
Hoshii Designs!
Score! (Score for you, not for me. I've decided to exclude myself from the giveaway just so that no one can say that I played favorites. Because I love you, and I'm a really nice person!)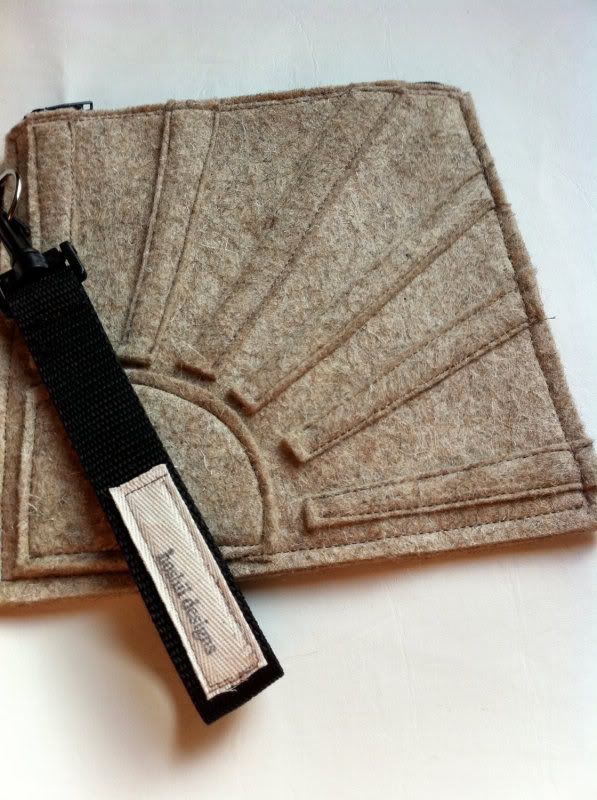 The Rising Sun Wristlet by Hoshii Designs
This guy here is made from 100% wool felt, with no applied post processing and sells for $40.00 online.
And yes, though this super cute bag is classified as a wristlet or a clutch, I'm pretty sure he's male. How do I know? Durable on the outside, soft on the inside, and fits right in the palm of your hand. Booyah!
One winner will be selected via random number generator and announced on Wednesday night right here on the ole blog.
To enter the giveaway, simply leave a comment and finish this sentence:
"My idea of camping is ..."
Until then, check out the Hoshii Designs
Facebook
and
Twitter
pages for current promotions like limited time free shipping, and on
Etsy
to view newly listed items like the ones pictured below!