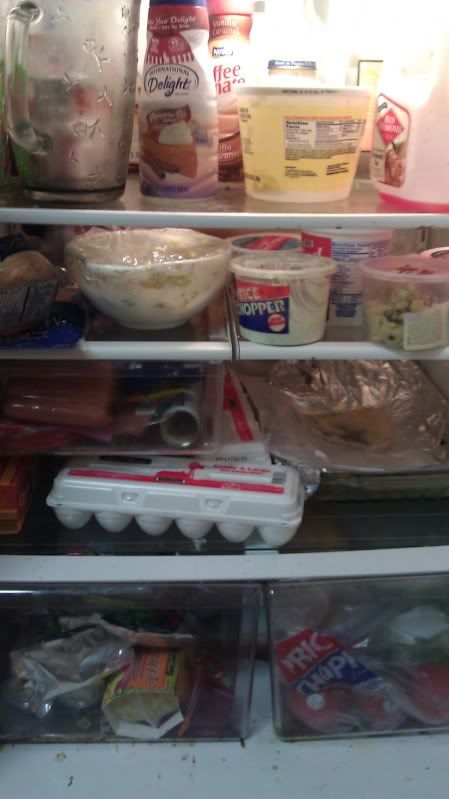 Not a celebrity fridge. This beautiful disaster belongs to yours truely.

I don't cook on Friday nights. It's a little reward I give myself after the end of each work week. Tonight's TGIF meal was chicken burritos - just as it was last night. Tasty yesterday, just as tasty tonight.
The beauty of enjoying a leftover is that they sometimes taste a bit different the second time around. I'd like to invite you to enjoy the remaining leftovers of my week. Some of them were perfect at the initial serving. Some are more enjoyable now that time has passed. Bon appetit...
Monday: Halloween
Miles had a little cold, so he helped Granny pass out candy. Marlee was a witch (very fitting). Mia was a she-wolf. Big Sister's look included werewolf ears, a plaid dress trimmed in purple fur, wild curly hair poufed ala Snooki, and hot pink/baby blue eyeshadow with bright fuschia lips. In the bathroom as I was curling her hair, Mia stood in front of the full-length mirror beaming. When I asked her if she liked her look, she grinned from ear to ear and said "I look beautiful..." My response was that she always looks beautiful, and I swear, she smiled so big that I thought the dimples were going to leave permanent pinholes in those sweet cheeks. She's definitely my daughter though: big hair & a new lipstick always make me feel a bit prettier too. Oh, and just so we're clear; I totally stole the peanut butter cups from the kids' candy bags.

Tuesday: Parent/Teacher Conferences
I absolutely love parent/teacher conferences. Few things rival the level of enjoyment a mom gets from someone else talking about how great their child is. Oh have mercy, there isn't a word in the English language that does that feeling justice. Plus, I adore Mia's teacher, Mrs. H, so it means a lot to hear her praise my baby. MiMi has all As in her academic categories & satisfactory marks in her elective classes...with an unsatisfactory mark in one category: HANDWRITING. Her teacher laughed and apologized for the low mark (I'd anticipated that), but said that she knows Mia is capable of better (which she is). Mia's reasoning for her poor handwriting? "Mommy, one day we won't have to write anything - we'll just type it on computers." Miss Smarty-pants is probably right, but we'll be riding her butt about her penmanship for the rest of the semester anyway. If we're not strictly typing when she's an adult, I predict she'll be a doctor. Nobody can read a doctor's handwriting.

"Mia needs to slow down when writing so that she will be able to form her letters more neatly." - Mrs. H

Wednesday: Girl Scouts
I thought it would be fun for Marlee to attend Girl Scouts with Mia & I this week at one of the local churches. How did that work out? Marlee pulled down a set of mini-blinds during the meeting. Marlee decided to bare-ass moon some of the Scouts in the bathroom - two separate times AFTER crawling under the stalls. Marlee left the building screaming "No, Mommy! Don't spank my butt!" while the church choir practiced in the sanctuary. I won't be taking her to the next meeting. Scout's honor.
Thursday: Wedding Anniversary
I reminded Chris on Wednesday night that our anniversary was the next day. He responded by saying that he thought we'd gotten married on November 5 and asked if I was sure of the date. Um...yes? I had to think for a minute just to double check. As you can tell, we go all out for our anniversary. Long story short - I got him a card about not being romantic. His gift to me? He came home from work on time. It was the best gift I'd had all year. I loved him four years ago on our wedding day, but I love him even more four years later.
Friday: Winding Down
There's all of this hustle and productivity that leads up to Friday because you'd really like to start next week as a clean slate. Isn't it ironic though that Friday also seems to be the day with the least amount of pressure? Casual Friday: love it because there's no pressure to look decent (I decided to rock wet hair, jeans, & flip flops today)! Pay Day Friday: love it because I can once again afford the things that were too expensive earlier in the week (gas, groceries, paying bills)! Dad's Weekend Friday: love it because even though we miss Mia while she's at her dad's house, Marlee & Miles usually go to bed a little earlier (they like Sissy & they REALLY like when Sissy gets them wound up before bed)!
Miles has been asleep for about an hour and a half. Marlee's winding down as I type this. Probably out of fear - about 30 minutes ago, she tried to shut the laptop with a pacifier wedged between the screen & the keyboard. I can only imagine what her computer-selling father is going to say when he gets home from work.
Marlee won't be a doctor. She'll be an inmate. The kind who shanks someone her first day in the slammer.
Hope you enjoyed the meal. Have a good weekend.