Hi my name is Jennifer - longtime listener here! Love you, love your show!
That's what I always think of when someone uses the phrase 'shout out'. Me personally? I would never call in to a radio show for fear that I'd say something completely inappropriate and they'd have to hit the dump button 15 seconds in...
But how entertaining would that be for anyone who recognized my voice!
Quick shout out to my insanely awesomely talented friend Kristen over at
Four Hens And A Rooster
for inviting me to guest blog today during her
12 Guests of Christmas
series! You might remember her from our Leap Day blog swap in February and if you don't, I've thoughtfully provided the link to her story
RIGHT HERE YOU GUYS
! I'm seriously on my game today, right?!
Second shout out of the night goes to another awesomely talented friend of mine (and maybe she's married to my brother, too) Laura, designer behind the newly minted
Sleek Glitz
storefront over at Etsy! If you don't like her jewelry, well then, you must not like jewelry at all. There is honestly something for everyone!
Pearl cascade earrings $7.50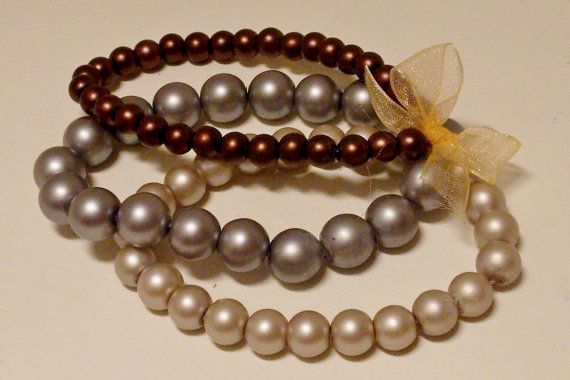 Matching pearl bracelets $7.50
I love these pearls! If they were sitting in my jewelry box, I would dub them my hot cocoa pearls: velvety smooth chocolate with big fat vanilla marshmallows on top, served in an over-sized gray mug. Mmmm...
Buy the bracelets here!
And because you knoooow you waaaannnna,
buy the earrings here!
Amber bronzed heart set $30.00
This? Eh...just an entire matching set for a measly $30.00... Yes, $30.00! Necklace, bracelet, and the earrings. Wear them all at one time, or mix and match. Me personally, I love sets because you get more bang for your buck. I don't want to wear each piece 7 days in a row, but 3 pieces make combos I don't feel like adding because it'll give me a migraine equals a ton of possibilities over a single week!
Buy it here!
Pearls and bow necklace $20.00
This sweet little pearls and bow necklace is absolutely adorable! Wear it alone, or layer it with another long chain (
hey, how about this one...
because that's exactly what I would do) and before you know it, your plain white t-shirt is just a little bit more feminine. Next thing, you're putting on some lip gloss and fixing your hair instead of putting it in a ponytail and then the Mr. comes home and offers to rub your back. And then what do you tell him?
"I'll let you rub my back if you buy me something from Sleek Glitz..."
And then, everyone goes to bed happy. But first,
buy this here!
So really the point here is, buy some jewelry. If you didn't get that point by now, I'm horrible at free advertising...
And now, if you'll excuse me, Marlee's trying to open my wine with a pair of scissors. Somebody really needs to teach that kid to use a corkscrew.