Seriously guys, I've got the shingles.
The bad news is, apparently there's a 72 hour window of opportunity to get to the doc when symptoms start
showing. My symptoms started last Wednesday. The good news is, nothing.
The doctor tried to patch me up with Band Aids this morning. Not my regular doctor though, so naturally I pretended it was no biggie when she put Band Aids all over my neck and chest. "Oh, by the way I'm super allergic to Band Aids!" - exactly what I should have said. I didn't say it though. And why would I? The big raw squares frame my shingles nicely. (Actually I didn't say anything because she was super nice. Plain and simple. I didn't want to come off as ungrateful.)
Me with Band Aids: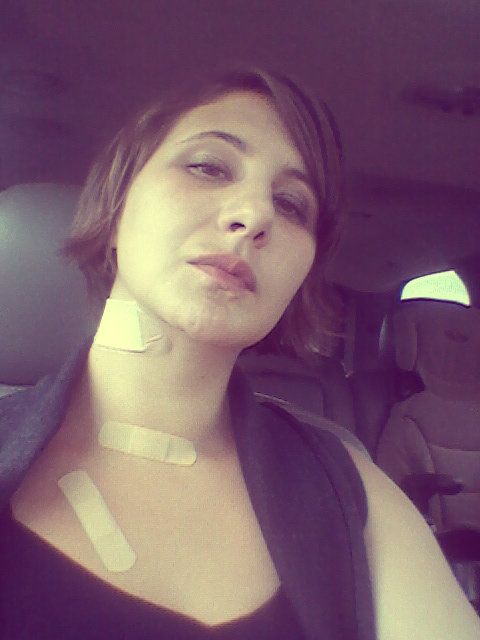 Text to my gal pal, Trisha : I'VE GOT SHINGLES, BUT IF ANYONE ASKS, I WAS ATTACKED BY A RACCOON.
Me with the nursing skills of my devoted husband: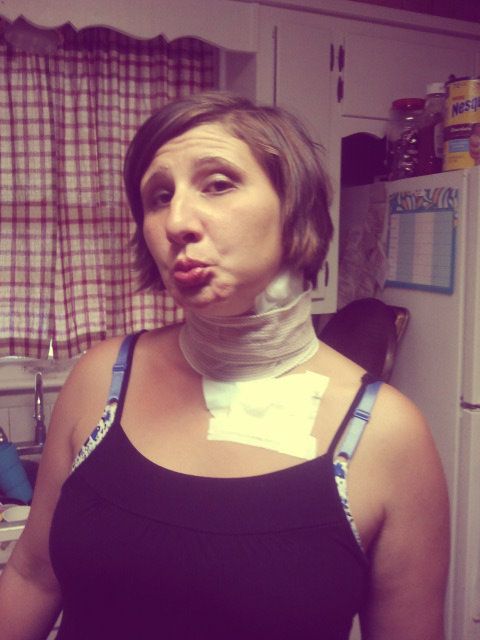 "Babe, be nice because I can always pull this tighter..." - 5 years of wedded bliss
Did you know that people over the age of 60 are most likely to get shingles? I'm 28.
Also, I jinxed the shit out of myself by blabbing how I felt fine before I went to the doctor, just a little itchy. Hey! Guess who has a sore throat, itchy eyes, and the start of shingle patches on her face now? FML...
Someone lend me a turtleneck. - XOXO Jen