My funny Valentine
Sweet comic Valentine
You make me smile with my heart...
I may or may not have said this before, but I'm not the most romantic woman in the world.
In fact, I typically avoid romance like the plague because it makes me feel awkward as hell. After years of absolute domestic bliss together, the hubs finally gave up on romance - 2/14 goes down just like any other day, aside from the fact that he has to remember to send me flowers.
When the alarm went off this morning, my first thought was that it was Tuesday. My second thought was that it was Valentine's Day. I hurried to get my clothes together and throw them into the dryer because
I don't iron
, and then went in to wake up Mia and give her a few Valentine gifts before she went to school.
"Mia! Get up right now or you're going to get a spanking!" (FYI: Surprisingly that seems to be a really good line if you want the kiddos to hurry out of bed.) "Now get your behind into the living room so I can brush your hair! Fast!" And of course when she got to the living room, her Valentine surprises were waiting: pink stuffed puppy dog, box of chocolates, bouquet of white 'spider mouths' (spider mums). Mommy is such a trickster!
Once Big Sis was off to school, it was time for the big husband/wife exchange of Valentine cards. I found my card from Chris inside my purse. He's so sneaky, that man.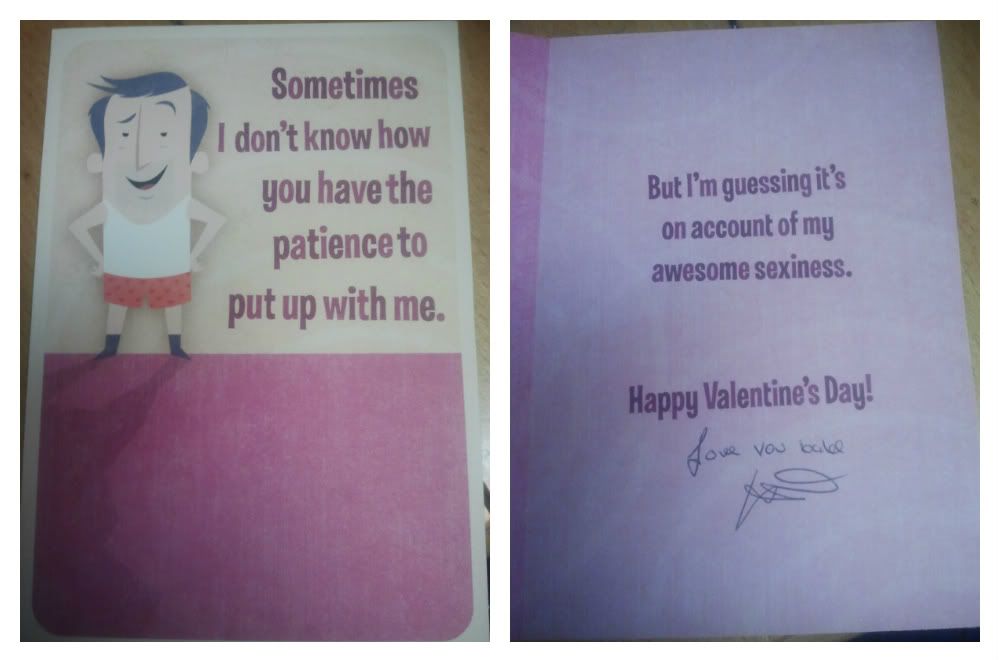 This is Chris's standard 'day off' outfit. Black socks and all!
I pulled my beloved's card from its inconspicuous Walmart bag on the sideboard and signed it quickly, leaving it on the kitchen table to be read when Chris woke up for the day.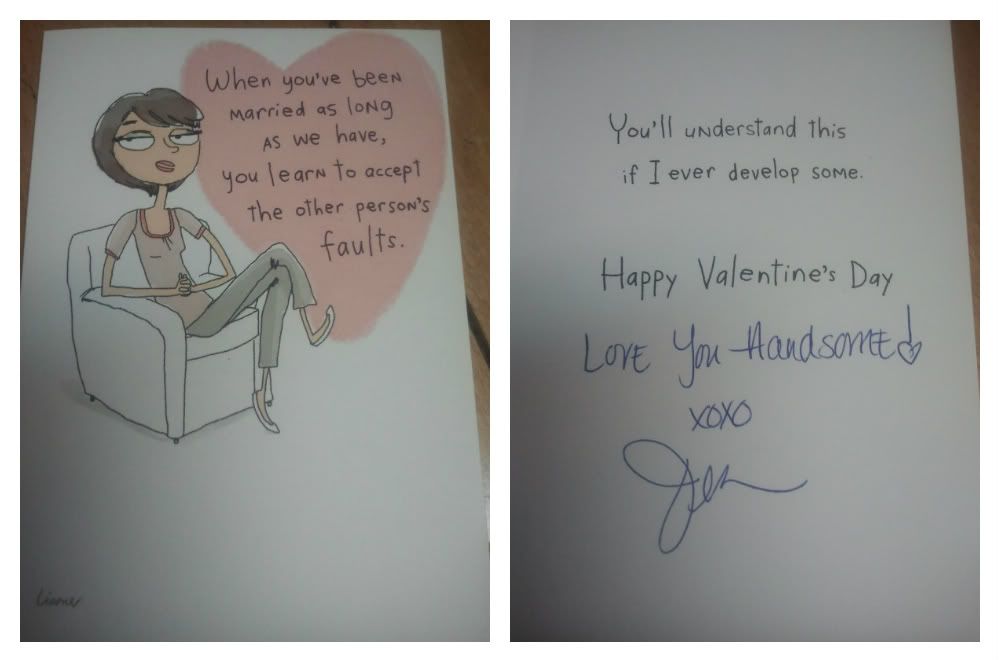 Cartoon girl kind of resembles me. I have bigger boobs and smaller eyes though.
We each bought cards that talk about ourselves, rather than the one we love. Swoon!
When it was time to leave the house, I gave him a half smooch with the routine "Love ya! Have a good day!" Half way to the door, Casanova mumbles "Hap...Valentine...You find your card?" I told him yes that I loved it, gave him another quick peck, and headed to work.
One day out of each work week, I work in our company's main building. As of this week, that day is scheduled on Tuesdays and today's main priority revolved around attaching cards to 250+ carnations before passing them out to all of the amazing people that work for our company. I had lots of help, and I have to say that I absolutely love having a job that allows me to do things like that!
Around noon during my florist stint, I got a text message from Chris saying "HOPE YOUR HAVING A GOOD DAY WE ARE DOWN TO ONE ROLL OF TOILET PAPER AND HAVE YOU GOT YOUR FLOWERS YET". All mine, ladies. All mine. Who needs punctuation when you write words as beautiful as these?
About two minutes later I got another one - from one of the girls in the other office: "UR FLOWERS HAVE ARRIVED!!!" As in, the flowers the hubs had faithfully ordered to keep his butt out of the dog house had been delivered to the building I'm usually working in on Tuesdays. The building where my regular desk is, that also happens to house the company's retail space specializing in floral design/delivery and unique gifts...
Big ole FTD box delivered for me? Brought in through the front door of the damn company florist? Hi, I'm Jen, Queen of Awkward Moments...
After an informative trip to the Arby's drive-thru ("Hey are you guys hiring? I've got experience, but I had to quit at the last place because I smoke pot when I'm not at work. I don't do it on the clock or anything though." - You, ma'am, have an EXCELLENT chance of being hired...at someplace other than our company!) I picked up the flowers with yet another thoughtful card. Thankfully, there were no hard feelings from the in-house florist. Chris is a man - it's always understandable.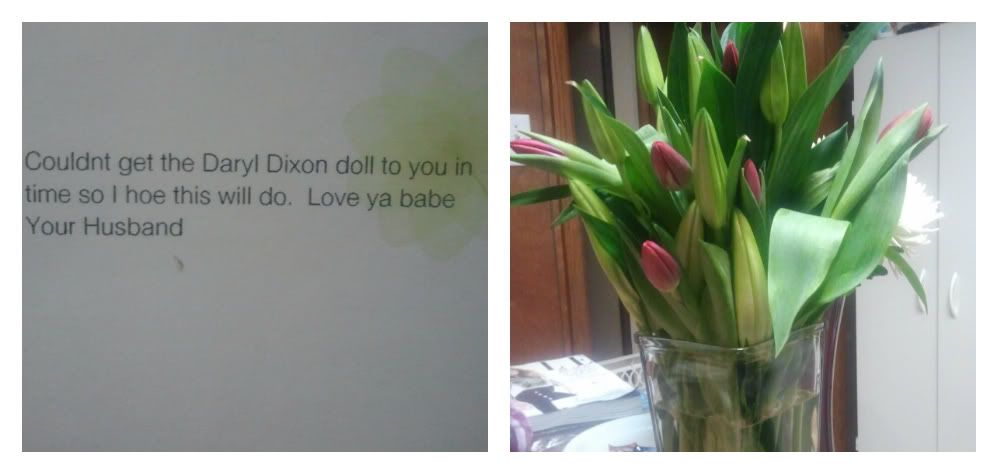 Don't most couples reference a zombie-killing redneck on Valentines Day? I sure 'hoe' so...
Each year, I get lilies (because they're damn near impossible for me to kill within the first 24 hours). It takes a few days for the blooms to open, but they're worth the wait. Added bonus this year: red tulips!
The rest of the afternoon was pretty much a blur of activity - including a surprise visit from Granny, who thankfully still loves her children enough to deliver chocolate covered strawberries to us at work! After a quick trip to the grocery store to pick up ingredients for our romantic Valentine supper, I came home to a semi-destroyed house and my happy little family.
Now, I'm going to sign off for the night. The kids are asleep. It's like their subconscious told them to go to sleep early tonight because it's one of the two nights of the year where I'm obligated to let Daddy grope me.