As of tonight, I haven't wrapped a single gift, haven't properly grocery shopped in roughly 2 weeks, haven't found the perfect hideous sweater for the company Christmas party, haven't the foggiest as to what the hell happened to the 3 giant stockings that Santa has filled for the last 4 years, and haven't figured out what's caused my car's heated seat button to go on the fritz. I'll save those worries for a Tuesday or a Friday.
In Momland, Monday through Friday holds the same old work/school schedule, and Saturday is the day to play catch up on all of your other priorities. Sunday is fun day: the day to relax, the day to do something special, the day to simply reward yourself for the battles won the six days prior. And then? You get to start all over as the sun rises on Monday.
So, I sit here on Sunday night, wrapping up what's left of my weekend, and tying a big red bow on top for your reading pleasure. Life is a gift, that's why they call it the present.
Behold, the gifts I've been given:
Hello, beautiful...


Thanks to this crazy December heat wave, the weather is a comfortable 50F during the day, and just chilly enough to warrant fleece blankets and hot coffee in the evenings. I'll take Sunny Days/Cozy Nights for $200, Alex!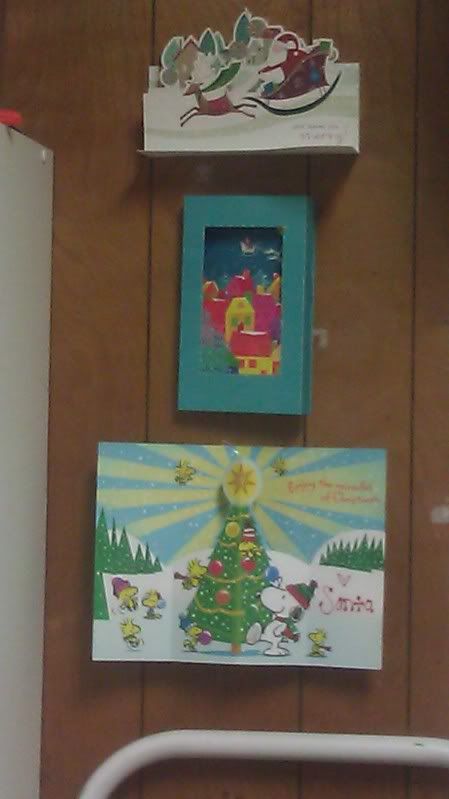 Mia, Marlee, Miles
The postman delivered Christmas cards from Santa himself to my 3 babies. Not just any old cards though, pop up cards - with glitter AND Christmas ornament stamps. I believe Mia's exact words were "Santa...sent...a card to MEEEE! I know I'm on the Nice List now!" through a fit of excited giggles. Helpful hint: Santa's handwriting looks just like everyone else's, but he adds little circles to the connecting points of each letter. Crafty old elf, that St. Nick.
I'm no Annie Lebovitz. Also, I take most of my pics on my phone. It's handy.
Mia spotted 7 cardinals in our front yard today. Growing up, my mama always told me that when a cardinal lands, it's a sign that snow is on its way. Lo and behold, the forecast shows a possibility of snow on Tuesday. I love when I get to pull out my Farmer's Almanac knowledge with the kids. It makes me feel like Laura Ingalls Wilder, and I REALLY love that!
"Purple is the Mommy flower, pink are the babies" - Mia
It was candy-making day at Great Granny's house today. We were invited to come by and sample the wares, so of course, we complied. You don't pass up an invitation to Great Granny's - especially when there's taste tasting involved. Great Granny is recovering from her second mastectomy and decided that she had enough flowers in her house, maybe a few blooms would like to come live at our house with the girls. P.S. I'd like to recommend the peanut butter fudge and the lemon cake balls dipped in white chocolate. Have mercy on my thighs...
Shock me, shock me... Marlee isn't wearing pants...


We surprised the kiddos with a TV for their bedroom. With a pricetag of $10, it was a deal too sweet to pass up. Squeals of delight, I tell ya! So far, it's been well worth the price, based solely on the fact that they're able to watch How the Grinch Stole Christmas in a room separate from Daddy and I. I swear, when I was a child, The Grinch was on once a year. Fast forward 20 years, it's on every night from Thanksgiving to Christmas on one channel or another. You're a mean one, Mr. Grinch.
Next week, we'll take down the Christmas tree. Until then, we'll be fighting what's sure to be a losing battle with Brother. Bless us, everyone.