This is how I kicked off Christmas 2011.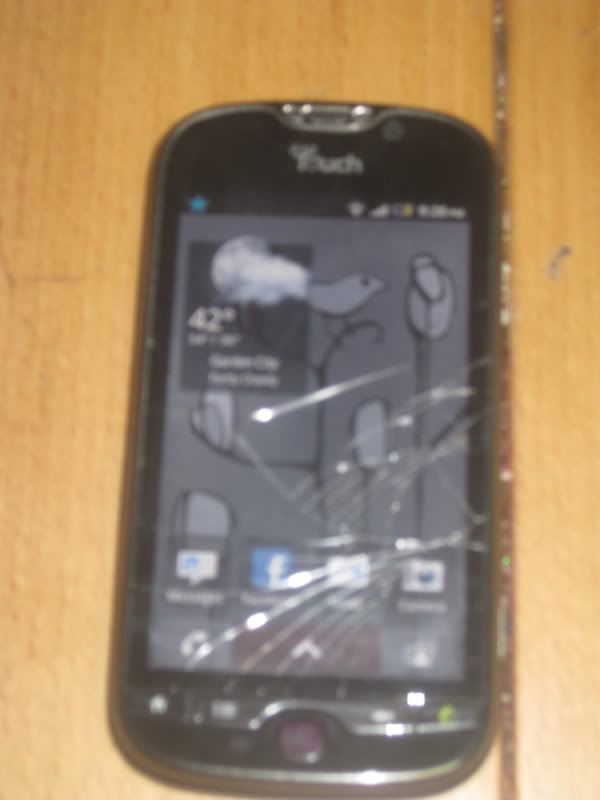 Focus on the busted screen, not the fact that I take shitty pictures.
By "kicked off Christmas 2011", I really mean "tripped over my own feet after climbing across the baby gate with my phone and a sippy cup in each hand within 10 minutes of waking up on Christmas eve". I stood there in sheer disbelief for a good 10 seconds before a stream of mother-fuckers flowed from my mouth like molten hot lava. The baby throws my phone like a grenade a minimum of 25 times each day, and not even a scratch. I drop it while pulling Super Mom duty to quench the thirst of my two needy babes, and BAM - screen looks like it's been hit by a stray bullet.
On Christmas eve, no less!
The rest of the day was spent in a cleaning frenzy set to the tune of my trusty Christmas station on Pandora. Laundry, some dishes, bathroom scrubbed, bedrooms - I even vacuumed which is a very rare occasion for this happy homemaker. I worked like a robot programmed for perfection, one with an irrational fear that if the house wasn't clean by nightfall Christmas would be ruined.
By the time Chris got home from work I'd had my fill of cleaning. We had a typical evening cooking and eating supper, checking out our various internet addictions, etc while waiting for Mia to come home from her dad's house before bedtime.
My big girl got home right after the sun went to bed and the stars came out to play; ready for Christmas magic.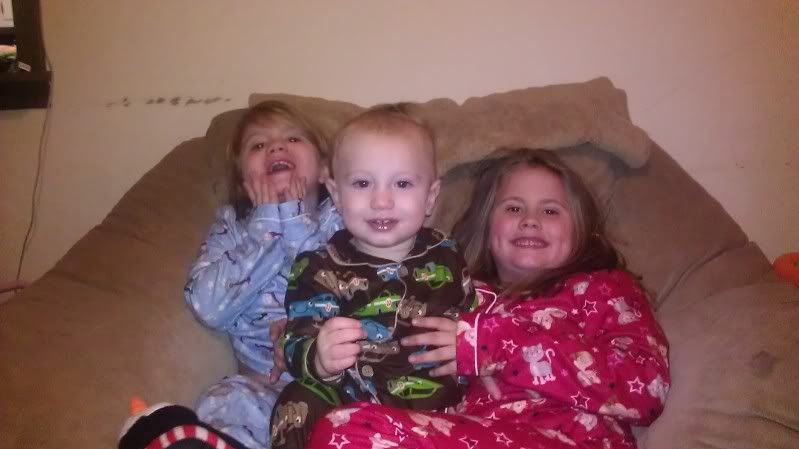 We take this exact photo every Christmas eve
Our Christmas eve tradition is that the kids get to open their gifts from Daddy & Mommy, and exchange their gifts from each other. Each year from us, they each get new pajamas to sleep in that night and a new outfit to wear the next day. From each other, they get something useful, but a little more fun (Miles: small stacking cups and new boots, Mia & Marlee: Hello Kitty watches and winter hats).
Did they love their gifts? Yes. Were they bummed when they realized they didn't get any toys? Yes and the tears began to flow. My kids are spoiled rotten, and even though they're very grateful for the things they receive, they're still kids. Kids love toys - not hats and watches.When kids cry, you distract them with something else.
While I put everyone in their new pajamas, Daddy went out to warm up the car. We put on slippers and the new hats and the girls doused the sidewalk, porch, and pretty much the entire front yard with Reindeer Food. For those of you who remember the fine establishment that was the Million Dollar Fantasy Ranch, my lawn is still coated with enough glitter to decorate an entire generation of single moms just trying to put themselves through college. I'll bet a crisp one dollar bill that the glitter will still be there in July.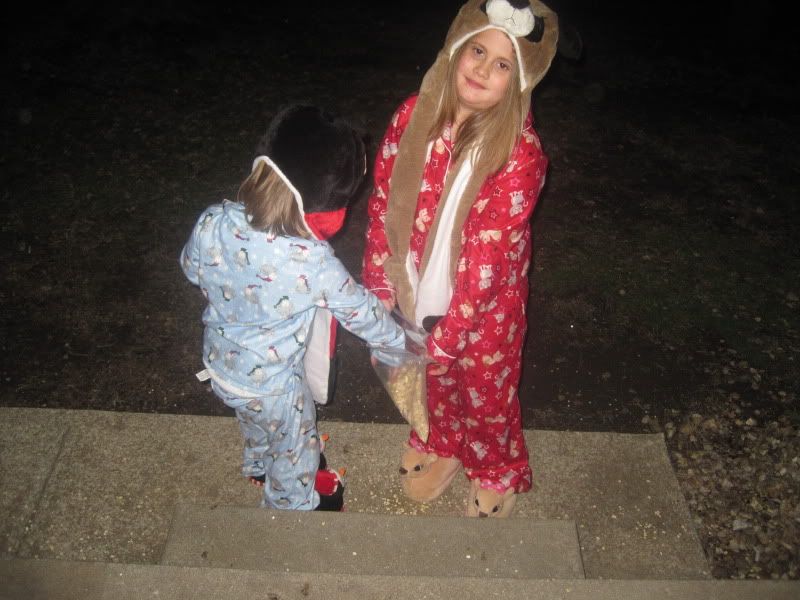 The glitter's there. Trust me.
Never made Reindeer Food? Here's the recipe:
MIA'S REINDEER FOOD
2 cups uncooked oatmeal (1 cup plain, 3 individual packets apple-cinnamon flavor)
1 huge ass jar of gold glitter (entire jar)
Combine glitter and oatmeal in a large Ziploc bag. Shake until mixed thoroughly. Then shake it again because it separates every time you move the dang bag.
Bag empty, we loaded into our toasty car with big cups of hot cocoa and blankets on our laps, then drove through our sweet hometown looking at the Christmas lights. "Damn it Marlee! I MEAN IT! Roll your window up or Santa's not going to bring you any presents!" followed by "Chris! Watch the road! CHRIS! YOU'RE ALMOST IN THE DITCH! Are you even watching for deer? You're going too fast - what if a deer runs out in front of us? Or a German Shepard!" I don't drive at night, so logically I don't think anyone else is really capable of doing it either.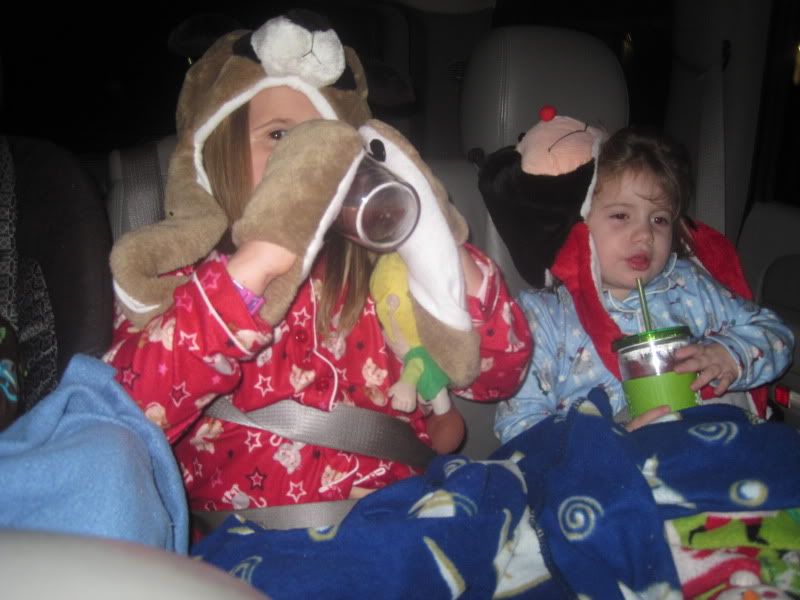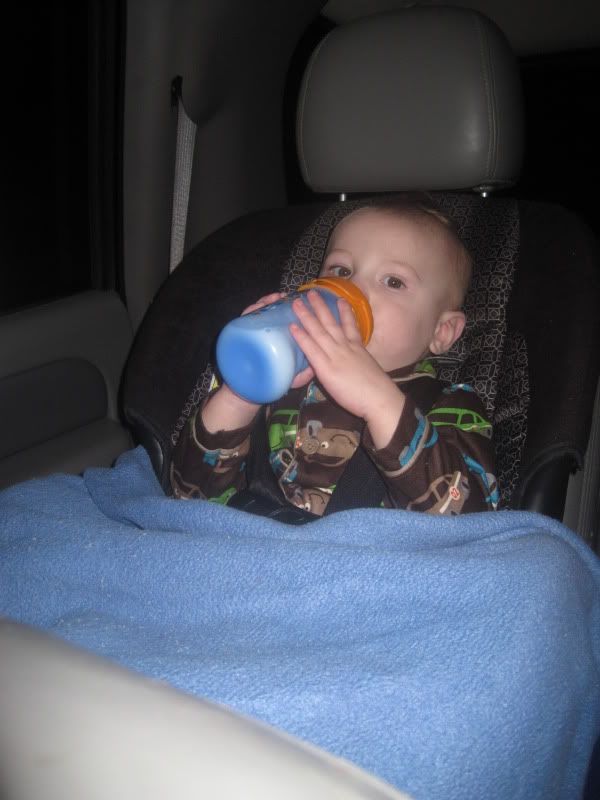 Before long, the kids were tired of the lights and asking if we were almost done. I love when we do things with the kids, saying that it's for their enjoyment, but in all honesty we do it because it's something that us adults think is fun...
At home, we set out milk and cookies for the big guy and Mia read A Very Marley Christmas (about the dog, not the child though it's pretty much one and the same) before my 3 sweet babies fell asleep. Not before Chris caught Marlee dunking her hands in the toilet though, and had to shower her off and change her pajama top. Three year-olds: can't tranquilize them, can't get them to fall asleep on their own.
When the coast was clear, Santa's gifts magically appeared under the tree and stockings were stuffed and hung. Not the 3 foot tall stockings (though I did conveniently find them tucked away in a box in the garage), but 3 replacement stockings.
Chris decided that it was time to wrap the gift he'd got me, and always one for surprises, called me into the kitchen "You wanna see what I bought you? Hey, where's some wrapping paper and tape?". In typical female fashion, I got all butt hurt because it wasn't what I'd hoped he'd got me. In typical man fashion, he said he didn't buy my requested gift because I'd told him that we couldn't afford it so don't waste the money. Ugh...ok, he had me there... Shit...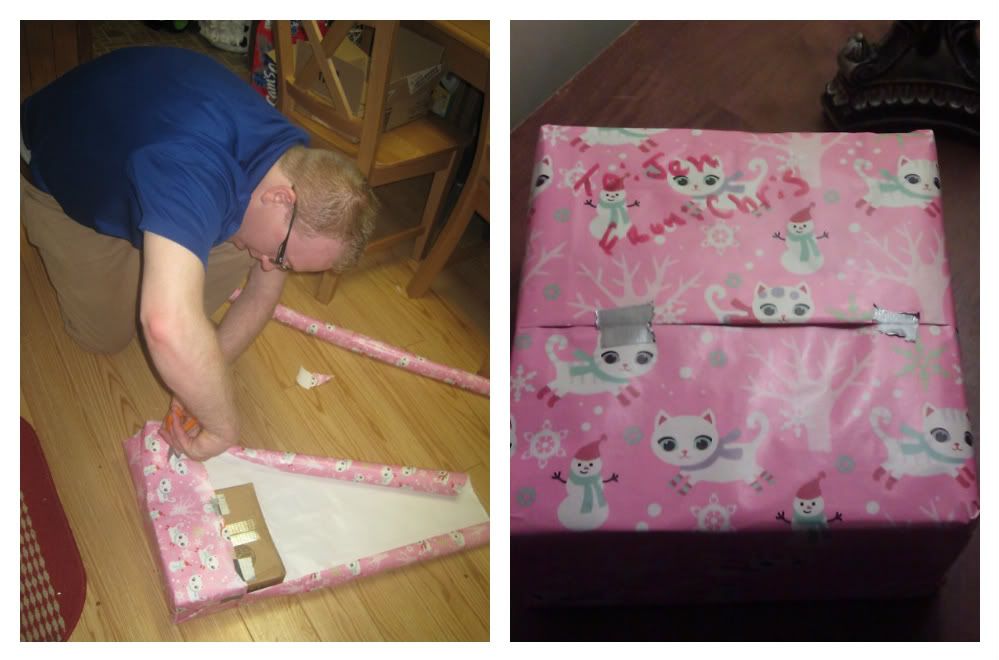 Inside: body wash (wrong scent), perfume (wrong scent), sugar scrub (already have). I'll keep them though!
I woke up every hour between 4AM and 8AM filled with anticipation, but the kids did not. Finally at 8:30AM, Miles started to stir and I woke the girls up asking them if they thought Santa came. Mar's response was to look out the bedroom window and say "Nope. There's no presents in da yard, Mommy..."
They made the nice list, miraculously.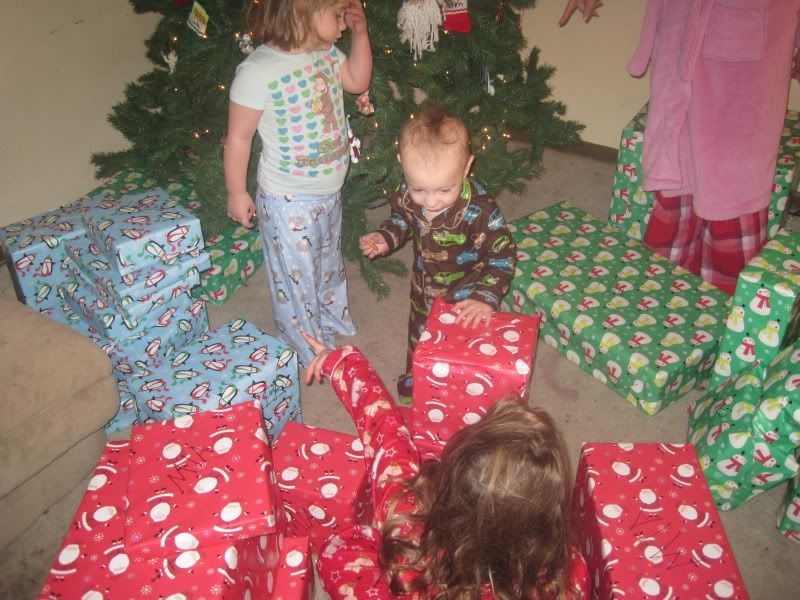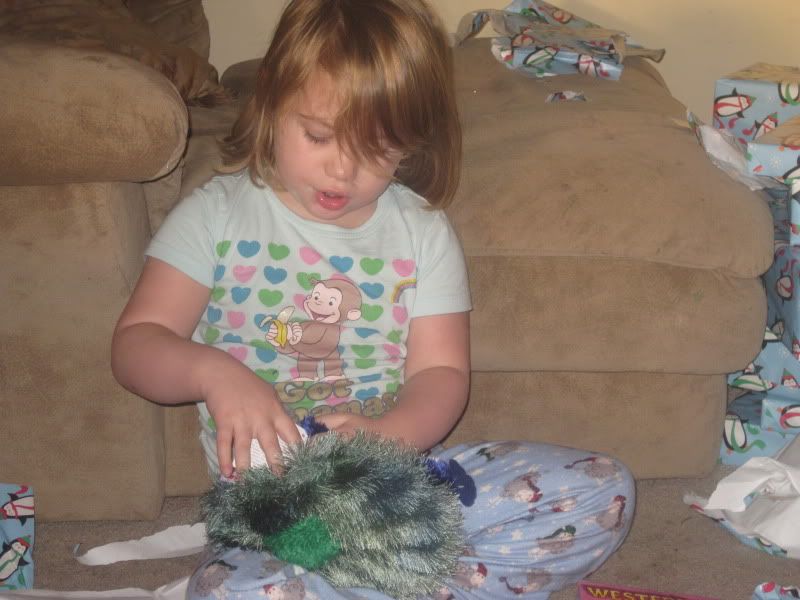 Somebody got her toy peacock. Name? Toy Peacock Girl.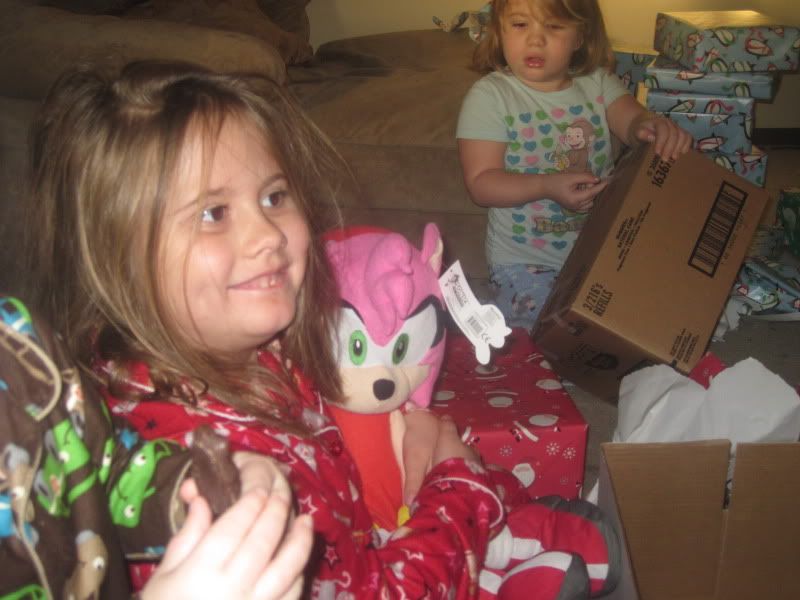 Amy Rose for my little gamer!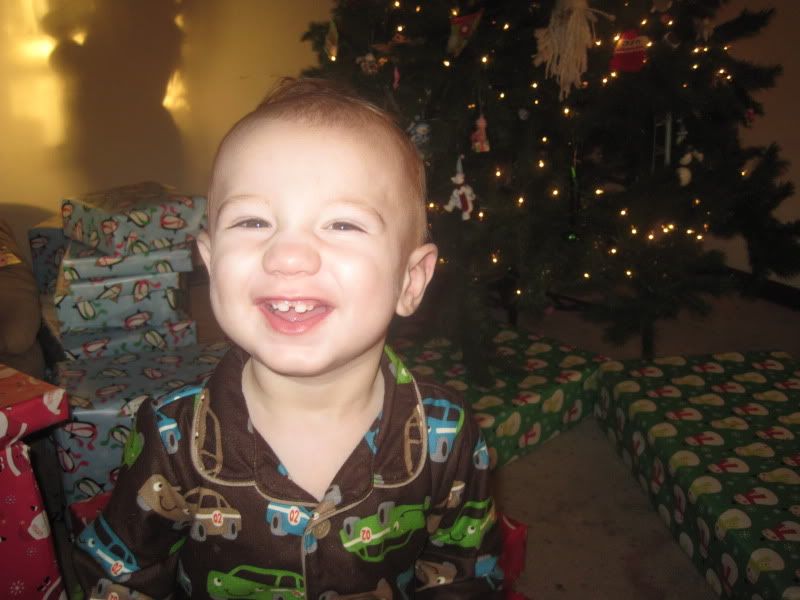 He loves smiling. Smiling's his favorite!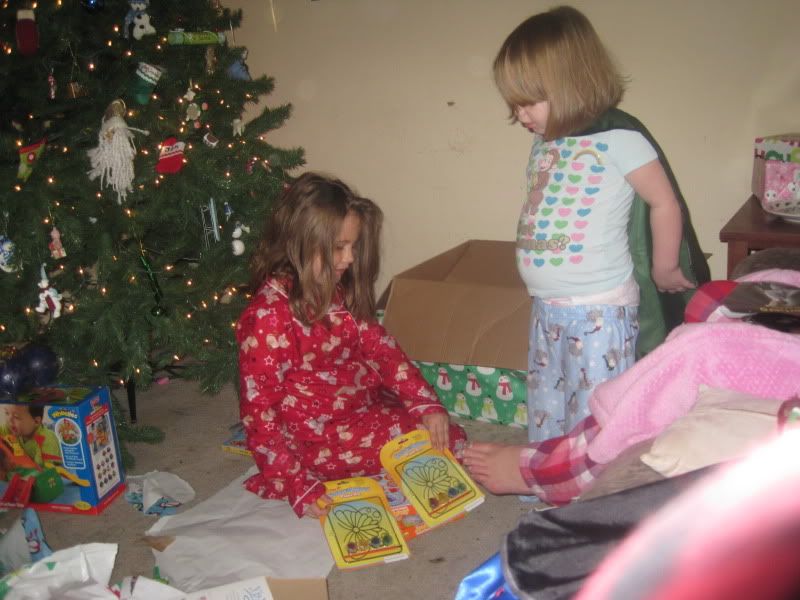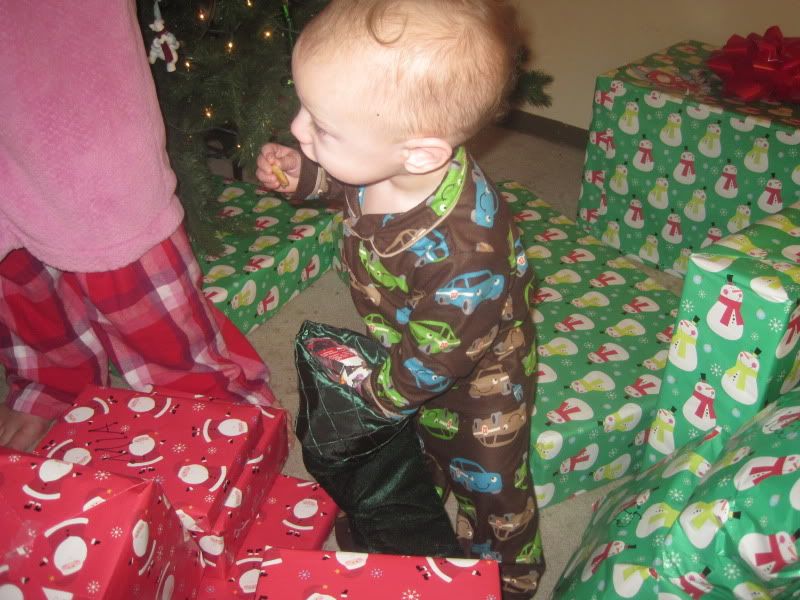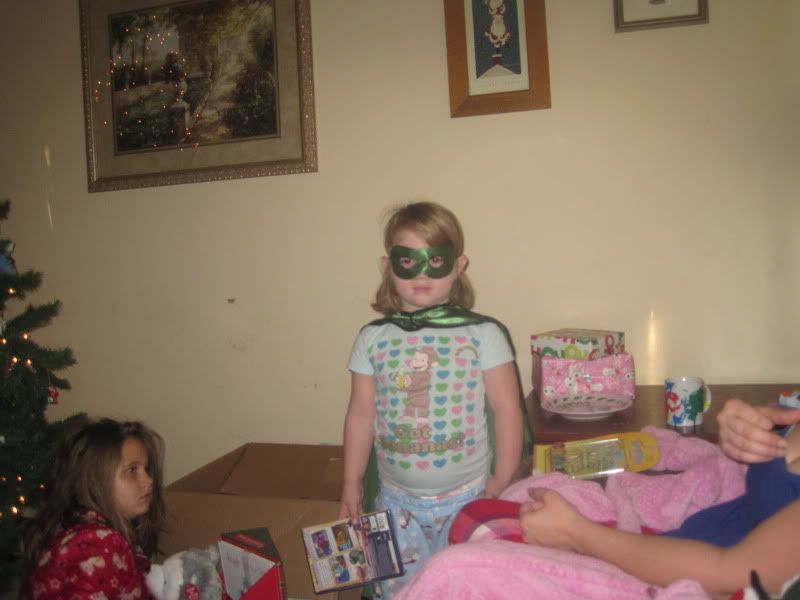 See that coffee mug? My favorite Christmas gift from last year. Hand - painted by Big Sister.
The rest of the holiday was spent with our family: parents, siblings, nieces and nephews. Good food, good gifts, and good times.
Now that it's over - back to cleaning up one giant glitter-speckled mess after the next. Why doesn't Santa think about storage before he goes shopping every year?
Fa la la la la, la la la la