"Christmas, Christmas time is near. Time for toys & time for cheer.
We've been good, but we can't last. Hurry Christmas, hurry fast..."
Friends, I tell you with all certainty, I'm living the live action version of The Chipmunks' Christmas song right now.
We end each night by moving the snowman into a new pocket on the advent calendar before bedtime. The wise big sister announces "_____ more days 'til Christmas!" and the excited little sister replies "Yep! And guess what? Tomorrow when we wake up it's be Christmas!"
Toddlers have no concept of time. They do get the concept of presents though.
I've lost count on exactly how many times the words "Be good...Santa's always watching!" have been uttered this week. Once you pass 10, you realize you're only saying it to give yourself false hope that the kids really will be on their best behavior.
When all else fails - you call the man with the bag to tattle:
"Hi, Santa? Yes, it's Jennifer Palis. I could use a little assistance here. I know you can see that they're acting like turds! I told them you were watching...What's that? Uh-huh...Uh-huh...Ok I'll tell them - Santa says that only good children get gifts on Christmas morning and it makes him sad when you guys try to murder each other/jump on the furniture like you're in a bounce house/use the Christmas ornaments like soccer balls/fill the sink drain with toilet paper/mash Pop Tarts into the carpet/cut your own hair/smear melty chocolate onto the back seat of the car. Yes, Santa Claus, they're listening. Yes, they look sorry. Santa says to promise Mommy you'll be good kids. Ok Santa they promised! Alright - thanks Big Guy, love you too! What? Yep, we're making sugar cookies on Saturday night. Do you want 2% or milk nog? Milk nog it is! Oh! Tell Rudolph that we have reindeer food & carrots ready for him and the team too. Your key will be in the normal spot on the door knob. No, thank you! Bye!"
I wish I had videos of my kids during a tattle call with SC. Their faces are a combination of shame, betrayal, fear, and hope in the purest form. They go from tears to relief through the span of the call and then? All is good, for about...eh...10 minutes until someone gets busted again...
*****
Mia had her First Grade holiday party on Wednesday morning.
The Three Little Wolves and the Big Bad Pig


My big girl decided to read me a story while some of the other kids played a game of Christmas Pictionary on the classroom whiteboard. She's such a good reader! The only word she needed help with? Pneumatic.
Craft time: Metallic plastic ornament with glittery stickers = Mama will keep this forever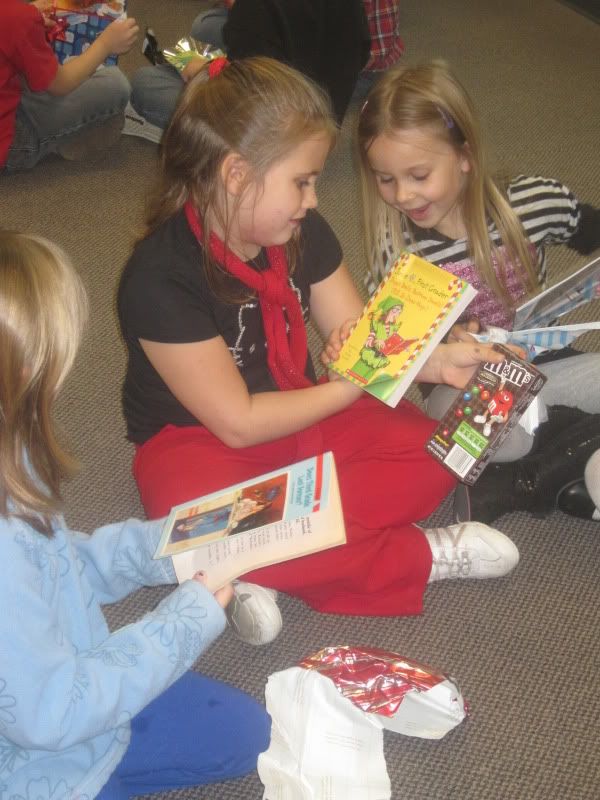 Junie B., First Grader: Jingle Bells, Batman Smells
Girls were asked to bring a book for a girl, wrapped, with a price limit of $5. Mia brought in a La La Loopsy book, wrapped in pink Christmas paper with kittens on it and made no secret of announcing to the other girls which was her present and what the book was. Her friend Morgen will likely be reading a little La La Loopsy over Christmas break! Sister received her friend Lily's gift - a book AND a big box of M&Ms! Score!
This is the kind of picture you pull out on Graduation day. Adorable!


*****
Yesterday was our company Christmas party at work. Staff breakfast provided by the senior managers, employee breakfast served by all staff, games, crafts, photos with Santa Claus, and an awesome talent show. By far, the company Christmas party is my favorite day out of the work year.
This year, the employees decided to forgo their Christmas bonuses in favor of collecting money for another local non profit. A total of $800 was donated to a women and children's shelter. My cup runneth over.
We also held an ugly sweater competition for the staff this year. Jimmy and I searched high and low for worthy gaudiness. We found them at the Christian thrift store in town, and seriously thought I was going to have to fight an older lady for it. Eyeballing my sequins? Aw, hell nah!
Sibling Rivalry: Ugly Sweater Edition
Sadly, neither of us won the cash prize for our sweaters. I can't speak for Jimmy, but as for my sweater, it's in good hands now that I'm done with it. The girls are absolutely loving it!
We're off work until after the first of the year now. Hallelujah! Hello, Christmas vacation, I've been waiting for you!
*****

Our next door neighbor, Jack, brought over bags of Christmas gifts for the kids yesterday. He is SO good to my kids, and they love him like he's just another grandpa. So thankful to have him in our lives!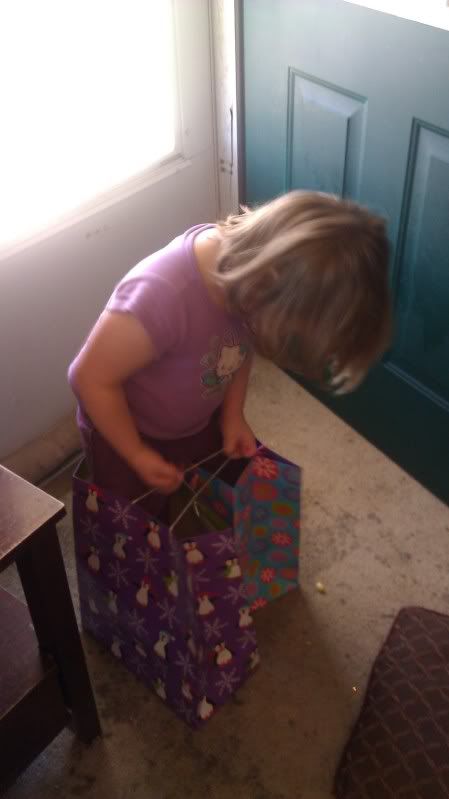 The perfect fit!
*****
Well, I'm off to clean my house before it gets destroyed again on Sunday. Have a wonderful holiday everyone, and if you don't have a reason to celebrate this weekend - find one!
Life is a gift...
Flavor varieties shown: chocolate, vanilla, red velvet, lemon coconut, and mint Oreo