{This post is brought to you by Netflix. All words and opinions
are mine and do not directly reflect those of my sponsor.}
Ugh... July has freaking flown by, right? It's definitely flown by - don't even question it!
I'm serious, we've been so busy this month and it's been fun busy (as opposed to our typical "Please, someone kill me" busy), but now the summer is winding down and we're gearing up for back to school. Actually, back to school for Mia and first year of school for Marlee! Yes, Sherwood citizens, you'll be blessed with a little gift who goes by the nickname of Ladybug. We're trying hard to convince her that it's a school rule that all students must wear pants while school is in session, but she thinks we're full of shit. I can hardly wait for our first call from the principal...
As the last few weeks of summer wind down, all I've been able to think about is this: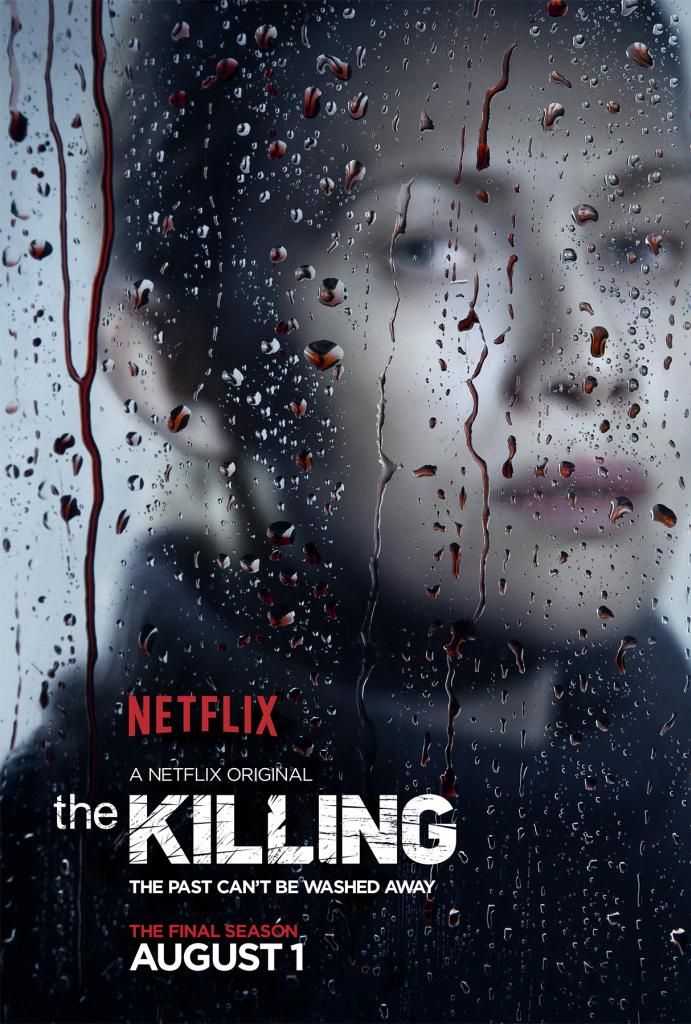 Yes, kids, Season 4 of
The Killing
begins 8/1 on Netflix! I'm going to binge on this SO.DAMN.HARD. I'm bursting with fruit flavor over the return of my show!
These are my main questions:
Is Linden going to recover from the finale of Season 3? I think she's going to be a basketcase.
Is Holder going to be the 'normal' person in this crime-fighting duo? Frighteningly awesome!
Jack, do you even love us anymore, Little Man? I think no. You only love your dad now.
ARE THEY EVER GOING TO SLEEP TOGETHER?
ARE THEY EVER GOING TO SLEEP TOGETHER?
ARE THEY EVER GOING TO SLEEP TOGETHER?
ARE THEY EVER GOING TO SLEEP TOGETHER?
ARE THEY EVER GOING TO SLEEP TOGETHER?
ARE THEY EVER GOING TO SLEEP TOGETHER?
ARE THEY EVER GOING TO SLEEP TOGETHER?
I'm a simple gal. Toss in a tortured romance and I'm hooked...
My schedule is pretty much booked up for the next week. If anyone needs me after 7PM any time between 8/1 and 8/8 - just don't bother. I'm busy!
And for those of you wondering what else we've been binging on lately:
Coke with the names on the side of the can. I never get cans that say Chris, but that's a good thing because I wouldn't share with him anyway.
Sherlock. My mind palace is a complete clusterfuck. As always.
Kazoozles. They're heaven. Of equal importance to me as my 3 sweet children.
The Wonder Years. I've said it a million times: Kevin & Winnie are the gold standard for true love!
French Lavender & Honey lotion and perfume from Bath & Body Works. Oddly smells like nectarines and not lavender. It's nice, not your typical old lady or dirty hippie lavender.
Hemlock Grove. Sure, it's super weird and it gave me nightmares, but it's one of those guilty pleasures you just can't quit cold turkey!
Instagram stalking. Have you ever seen Kelly Oxford's cats? Jessica Seinfeld's Rick Ross obsession? Or ANY post by Johnny Weir? This is my life and if being a creeper is wrong, I don't want to be right. (@jenpalis if you'd like to creep random pictures of Helga being ABSOLUTELY ADORABLE)
What are you binging on these days? Don't say ice cream or cocaine...those are both forbidden in this house.